As you embark on your college journey, do not be afraid to ask for help and explore all the resources Tech has to offer. From supporting you in the classroom, to helping you land a dream job, to celebrating your personal growth, the Tech community is eager to cheer you on throughout the next chapter of your life. Here are just a few, of many, resources on Tech's campus to support your success.
DIVERSITY AND INCLUSIVITY
Institute Diversity, Equity, and Inclusion is committed to ensuring diversity and inclusion among students, staff and faculty. This includes through the Center for Student Diversity and Inclusion, which houses several offices, such as the Office of Minority Educational Development (OMED). OMED is located in the Chapin Building and offers resources for traditionally-underrepresented students, including Black, Hispanic/Latino, Indigenous and multiracial students. OMED offers both drop-in and appointment tutoring for a variety of classes and peer mentoring for incoming first-year or transfer students through the Edge program. Additional programs offered include the Women of Color Initiative (WOIC) and African-American Male Initiative (AAMI).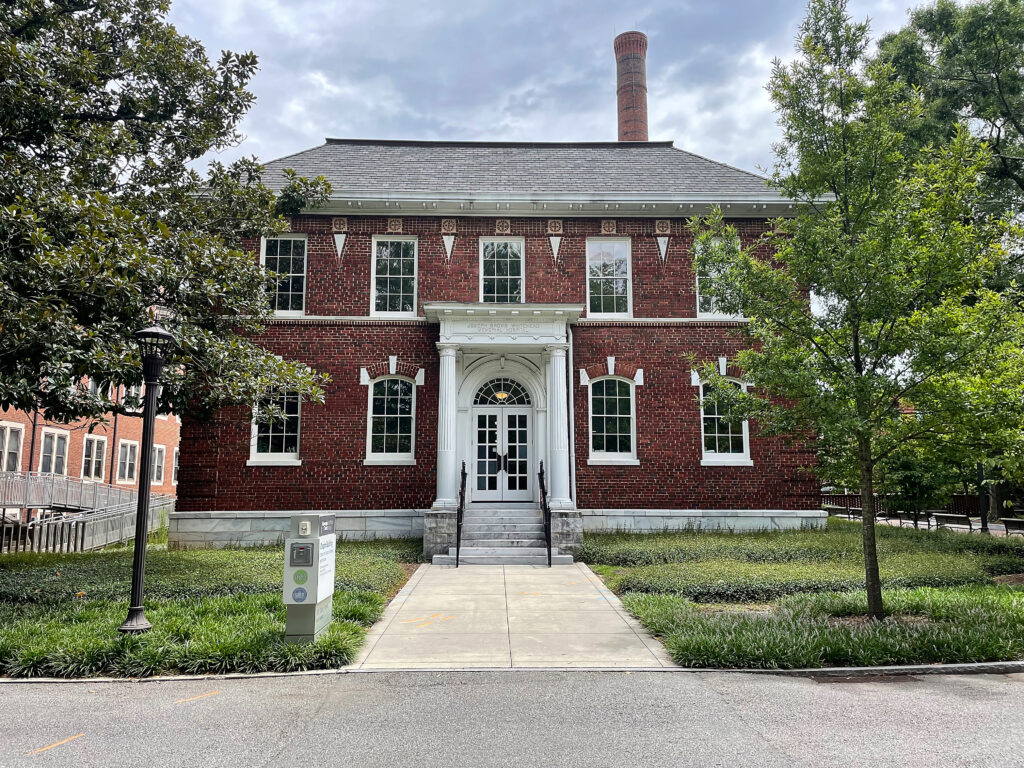 The Office of Hispanic Initiatives facilitates The Goizueta Foundation Fellowship for doctoral students and The Goizueta Foundation Scholars Fund for undergraduate students, both of which are awarded to students of Hispanic/Latino origin. Additionally, the office offers programming throughout the year, such as the Latino Welcome Celebration, and during Hispanic Heritage Month.
The Center for Engineering Education and Diversity (CEED), originally founded in 2004, is located in the Old Rich Research Building. Its many programs aim to support underrepresented STEM students through the Summer Undergraduate Research in Engineering/Sciences (SURE) program, various scholarships and fellowships, dual degree programs in partnership with other institutions, K-12 outreach and graduate school application support. The new office includes study spaces and conference rooms for students to utilize.
The LGBTQIA Resource Center, located in the Smithgall Student Services Building Suite 140, offers programs throughout the year, including discussion spaces and educational workshops to advocate for LGBTQIA students and foster community among all students and staff.
The Center also supports LGBTQIA students with on- and off-campus health, well-being resources and financial resources, including scholarships. Additionally, the Center offers various ally-ship training throughout the year.
The Women's Resource Center (WRC), located in the Smithgall Student Services Suite 131, offers programming throughout the year to support gender equity, including the annual Women's Leadership Conference.
WRC also supports various academic programs through other departments, such as the Women in Engineering program, whose efforts include mentorship opportunities and K-12 outreach.
The Veterans Resource Center is located in the BioQuad, and aims to support student veterans through outreach and events.
More information about these resources can be found at diversity.gatech.edu.
HEALTH AND WELLBEING
Always prioritize your mental and physical health. Stamps Health Services offers a Primary Care Clinic, Women's Health Clinic, Psychiatry Clinic, as well as sexually transmitted infections testing and treatment, a pharmacy, annual flu shot clinics, COVID-19 vaccinations and more. Symptomatic testing for COVID-19 can be administered by appointment. Visit health.gatech.edu for more information.
VOICE supports victim-survivors of sexual and relationship violence regardless of gender identity with emotional, medical, academic, housing and financial resources.
VOICE can assist with reporting if victim-survivors choose to do so, but reporting is not required to meet with and get support from VOICE. Call 404-894-9000 for a 24/7 confidential support line, or visit healthinitiatives.gatech.edu/well-being/voice. Additional services offered through Health Initiatives include nutrition counseling and The Body Positive program.
By setting up an appointment through the Center for Assessment and Referral (CARE), students can receive a primary assessment and referral to the best available resource to support their mental health. An initial appointment is required before meeting with anyone in the Counseling Center or Psychiatry Clinic. CARE is located in the Smithgall Student Services Building and can be contacted at 404-894-3498 to set up an appointment.
If referred, the Counseling Center offers individual, group and couples counseling sessions, all of which are free to enrolled students. However, the Center can also help with off-campus referrals to other providers. The Center also offers QPR Training and peer coaching.
The Campus Recreation Center (CRC) membership is included in student fees and boasts an Olympic-sized swimming pool, basketball courts, a fitness floor and more to support your physical health. The CRC also offers personal training and various group fitness classes throughout the year.
ACADEMICS
During the transition to Tech, you may face challenges in your courses. In addition to taking advantage of your professor's and TA's office hours, utilizing the Tutoring & Academic Support (TAS) unit can greatly benefit you. Peer-Led Undergature Study (PLUS) sessions are offered for numerous and traditionally challenging courses you may take your first year.
The sessions are led by students who have already taken the course and are opportunities to work with fellow classmates to understand course content and prepare for upcoming exams.
1-to-1 Tutoring offers more personalized time for you to meet with a student tutor to assist you in your learning. These tutoring sessions are free of charge and offered for a larger selection of courses than PLUS sessions. Appointments must be made at tutoring.gatech.edu at least 24 hours in advance of the appointment. The Tutoring Reception Desk is located in CULC 273.
Unlike 1-to-1 Tutoring, Drop In Tutoring does not require an appointment and is offered for a smaller selection of high-demand courses, including physics, chemistry and math.
These sessions are held either in-person or online, and the schedule will be determined in late August.
The Naugle CommLab, located in CULC 447, offers assistance for a wide range of communication-related skills and projects. If you are interested in working with a consultant to improve an impending essay, presentation, report or application, schedule either an in-person or online appointment through the CommLab at communicationcenter.gatech.edu. You can even book a rehearsal room to practice your presentation for the big day.
CAREER
The Career Center supports both undergraduate and graduate students throughout their professional development, with semesterly career fairs and an online job board, called CareerBuzz. To alleviate some of the financial burdens of the job search, Campus Closet offers professional attire for students to rent for up to two weeks, free of charge. Visit career.gatech.edu to see upcoming events and workshops, including mock interviews and resume reviews.
FUN
Make sure to take time away from your classes and other obligations to have fun. Take advantage of the newly renovated Tech Rec in the Student Center, which features bowling lanes, billiards tables, board games and more. Tech Rec will open on Aug. 15, and pricing and hours can be found at studentcenter.gatech.edu/tech-rec.
The CRC has plenty of resources to let loose as well, including a Sports Simulator for virtual golf, soccer and more. Try out the 39-foot climbing wall, which welcomes climbers of all experience levels.
Finally, stay updated on Student Center Programs Council's (SCPC) upcoming campus events at their Instagram, @gtscpc.