After fewer than four seasons at the Institute, Geoff Collins has been fired as the head football coach for Tech, with Athletic Director Todd Stansbury being dismissed as well on Monday morning. The move comes with the Jackets sitting at 1–3 (0–1 ACC), with back-to-back multiscore losses. Collins becomes only the fourth Tech coach to be fired and the second to be fired mid-season. His 10–28 record at the Institute is the lowest by a full-time coach in Jacket history.
Collins was hired from Temple University, where he spent two seasons prior to joining Tech. He led the Owls to a 15–10 record, including a mark of 11–5 in the American Athletic Conference. He earned a Gasparilla Bowl win during his first season at Temple, and led the team to an Independence Bowl berth, though he resigned for the Tech job before the game. He was brought in to modernize the offense and build the school's brand and culture, but struggled to do so.
Collins saw reasonable success recruiting, securing a top-50 class every year of his tenure. His best class was in the top-30 nationally, and he had three transfer classes ranked at No. 22 or higher. The recruiting efforts rarely transferred into on-field success though, as the Jackets won three games in each of Collins' three full seasons. 
Following the Paul Johnson era, Collins faced an uphill battle in modernizing the offense. After a decade of the almost entirely run-based triple-option offense, Collins intended to implement a pro-style offense, which is a balanced, pass-first attack that relies on strong quarterback play. The first season saw expected turbulence, but two 45-point losses to Virginia Tech and Georgia coupled with a loss to FCS Citadel led to a 3–9 campaign, a few steps down from the 7–6 season in the final year under Johnson.
In 2020, during a COVID-affected season, the Jackets took a step sideways. They once again picked up three wins, improving their ACC win total from two to three, but fell at home to Clemson 73–7, resulting in a new ACC margin-of-victory record on Homecoming Weekend. While the win total was stagnant, Tech had a number of freshman playing significant time, including then-freshmen quarterback Jeff Sims and running back Jahmyr Gibbs.
Collins' last full season had higher expectations, having had two full years to build the program. The season began poorly though, with a last-minute loss to NIU, a game where the Jackets were favored by three scores at kickoff. Tech rebounded over the next few games, sitting at 3–3 halfway through the year, with wins over FCS Kennesaw State, Duke and a win in Mercedes-Benz Stadium over No. 21 UNC. Following the Duke win however, Tech collapsed, losing six straight, including the last two by a combined score of 100–0 to Notre Dame and rival Georgia, placing Collins on the hot seat heading into 2022.
Stansbury stood by Collins after the 2021 season, confirming the coach's return for a fourth year and expressing his support. Collins needed to prove that Jacket football had taken a step forward even with this support, and had to do so against what was rated among the nation's five hardest schedules before the season.
Tech opened against a tough Clemson team, ranked fourth in the country coming into the game. The Jackets hung with the Tigers for three quarters, but special teams woes and penalties lead to a 31-point loss. Tech amassed 86 penalty yards to Clemson's 10, and had two punts blocked that led to Tiger touchdowns in the loss. Penalties and special teams issues were nothing new to Collins' time on the Flats, and he promised to "work relentlessly to get that cleaned up."
Tech rebounded five days later with an 18-point win over FCS Western Carolina in a game that did little to quiet the growing discontent with the program. Ole Miss came to Atlanta the following week and set the table for Collins' firing with a 42–0 thrashing of Tech. The Jackets' first drive ended with another blocked punt, and Ole Miss totaled over 2.5 times as many yards as Tech, including a 316–53 differential on the ground.
Traveling to Orlando for the first road game of the year against UCF, Collins was coaching for his job. The defense swarmed and the offense moved the ball for much of the game, but special teams cost Tech 13 points in the first half alone. Two missed field goals and a blocked punt — the fourth in four games — that was returned for a touchdown gave the Knights a 13–7 lead. Another eight-penalty game by the Jackets helped seal a three-score UCF win and Collins' demise.
This final season came with a new offensive coordinator, Chip Long, as Collins attempted to retool. The same issues from previous seasons cropped up despite his efforts. The offense still often struggled to score, averaging 11.3 points per game, and discipline was an issue in several facets of the game.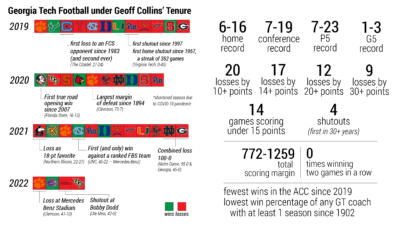 Collins' efforts to build the brand found moderate success. He attempted to connect the team to Atlanta, with "404" branding found regularly in team media, and his #404theculture hashtag tried to connect that brand to the team's culture. He also had fake money passed out at games in his early seasons, encouraging fans to get extra loud during third and fourth downs on both sides of the ball. 
Stansbury's seat got hot in large part due to his support of Collins. Stansbury was hired in 2016 from Oregon State and hired Collins two years later. He was a loud supporter of Collins even after three disappointing seasons. Stansbury gave Collins a seven-year deal, notably long for a coach of Collins' stature. The deal also guaranteed Collins his money, leaving the Institute on the hook for a further $10.5 million to buy out the final three years of the contract.
Stansbury is now the first Tech AD to be fired. Tech's Senior Vice President for Strategic Initiatives and Chief of Staff, Frank Neville, will be taking over interim duties as athletic director. 
The official decision to make both moves was communicated at an all-staff GTAA meeting at 11:30 a.m. on Sept. 26 after news was reported the day before about Collins' dismissal and the potential for Stansbury to follow. The moves leave Tech football and athletics as a whole at a turning point, with a series of new coaches set to start work on the Flats in 2023. 
Offensive Line and Assistant Head Coach Brent Key is expected to take over as interim while the search for a new head coach and athletic director begins. Tech Athletics has a unique challenge ahead in trying to attract new hires with funds that were reportedly in the negative even before the buyouts hit.