Tech baseball is rambling into the season hyped with high expectations. The team, returning most of their strong but cut-short 2020 season roster, had added two of the nation's best high schoolers to their roster- Kevin Perada and Jake DeLeo.

Parada comes into the season after coming out of Loyola High School ranked the number 6 high school player in the nation. Playing at catcher, Perada could find himself behind the plate for Tech for the foreseeable future. DeLeo, named All-American high school second team by Perfect Game, is another player who can make an immediate impact.

Thanks to a shortened MLB draft and the temporary elimination of the team size limit, Tech's talent is incredibly deep. The team is set to play 50 games this year, 36 of them against opponents in the ACC. The team finished last season at 11-5 after COVID-19 caused an early end.

Tech's main rival this season appears to be Louisville, who has been favored to win the ACC by analysts. Miami also looks to be a contender, having brought in the number one recruiting class.

Since the ACC lifted restrictions from roster size, the size and depth of every team will be larger than ever before. The ACC looks loaded for a competitive season in one of the deepest conferences in all of college baseball.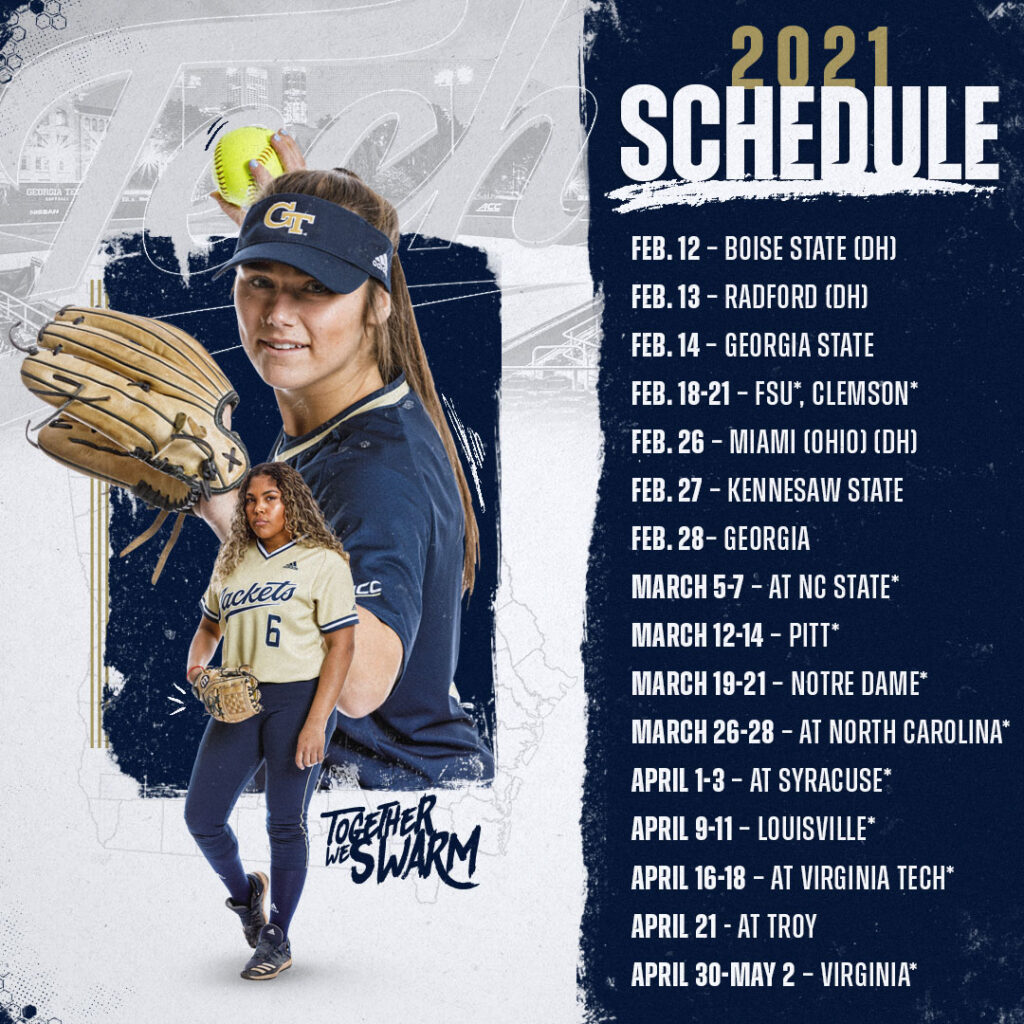 Georgia Tech softball is slated to start off their season this week, with a game against Boise State slated for February 12.

Each date in their conference schedule will be four games against every team. ACC play will begin February 18 with games scheduled against Clemson and Florida State.

The games are set up in a NCAA Super Regional format, a format in which one team is the home team for the first and third game. The team finished a shortened 2020 season going 2-1 in the ACC and 12-11 overall. Expectations coming into this season are hopeful as the team looks to potentially crack the top 25.

Both baseball and softball had suffered season-ending restrictions from COVID-19. It is unclear the effect an extended offseason and changed regular season will have on the respective sports. Funding for sports has decreased dramatically from school revenue squeezes.

While the sports are both revenue generators from fan attendance, decreased funding could possibly take the form of a strain on scholarships and spending as schools struggle to fund non-revenue generating sports. Baseball and softball both have the potential for a strong Tech team performance.

Renovations have been going on at Russ Chandler Stadium, while also getting a slight rebranding of the entire baseball facility. The whole complex including the field, locker rooms, stands, batting cages, and new Champions Hall will be called the Mac Nease Baseball Park. Mac Nease played for Tech, graduating in 1965. Him and his wife Brenda have contributed a lion's share of the funds that have gone into renovating multiple aspects of the baseball infrastructure on campus.