If everything goes right for  Tech senior pole vaulter Nikita Kirillov, he will be competing in the 2016 Olympic Games in Rio de Janeiro.
The senior previously tried out for the 2012 Olympic squad but was unable to clear even the lowest height due to a heavy  rain storm.
"It was in Oregon, and it just rains there all the time, and it was literally raining sideways when we were jumping," Kirillov said. "Half of the field no-heighted. It was pretty much if you jump a height, then you move on to  the finals."
Kirillov originally hails from Kyrgyzstan and moved to the United States when he was six-years-old.
He is the son of two Olympic-caliber athletes: his father was also a pole vaulter, while his mother was a swimmer.
Kirillov was first introduced to the sport of pole vaulting by his father at the age of 11.
"I kind of hated it at first, but I did it because a family friend did it, and I couldn't let a girl be better than me," Kirillov said.
"I kind of hated it at first, but I did it because a family friend did it, and I couldn't let a girl be better than me."
Kirillov did discover, though, that it was practicing the basics over and over again that allowed him to excel early on.
"It was just basics and it wasn't that fun. But when I had my first meet in the eighth grade, I went into it expecting to jump seven feet, like that would be a miracle, and I jumped nine feet. After that I just fell in love with it."
Kirillov is coached by his father, who took the job at Tech during Kirillov's senior year of high school. This prompted him to apply to and enroll at Tech coming out of high school.
"I would argue that [my father] is the best coach in America and one of the top five in the world," Kirillov said. "Every student that he had has gotten a new personal best in two years of coaching by at least a foot. I guess the results speak for themselves.
"We have our disagreements and arguments, which I can imagine any father and son do, but at the end of the day, I wouldn't pick anyone else to coach me."
The year 2012 was a busy one for Kirillov. In addition to the Olympic trials, he also competed at the junior nationals.
He won the event, earning a spot on the U.S. Junior National team, jumping a personal best and setting a new meet record.
"I had never been so nervous in my entire life, but after that, all of the pressure was off,"
Kirillov said.
The victory allowed him to compete at the World Junior Championships in Barcelona that year, where he finished in eighth place.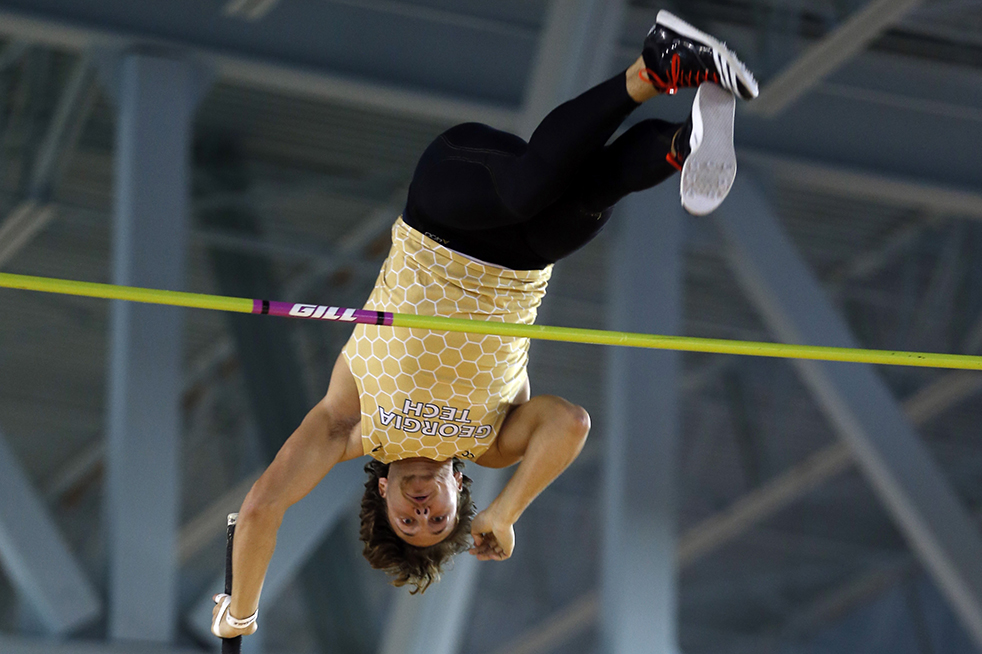 Kirillov redshirted his sophomore year in 2013 due to a stress fracture in his back but returned to action in 2014 while still fighting off back pain.
Nevertheless, he qualified to compete at the NCAA Championships in Oregon, where he finished 13th.
"My second half of the outdoor season, including the NCAA Championships, I had another stress fracture in my back which we didn't find out about until after the season was over," Kirillov said.
The injury also hurt Kirillov's ability to train. "I did not get much practice in at all [due to the pain]; I was pretty much going off of automatic memory. Since I had all this back pain, I couldn't really jump. There would be days where I would just step on the runway and try to run, make it halfway down the runway, and the pain would be too much and I would have to stop. We just did maybe one jump practice between regionals and nationals."
"There would be days where I would just step on the runway and try to run, make it halfway down the runway, and the pain would be too much."
Kirillov admits that he was very nervous about competing at the championships but is able to mask it with the motivation to do well.
Nerves and injuries aside, Kirillov feels that the sport's biggest challenge lies in its technical nature.
"On every movement, you can change one little thing that a regular person would not even notice, and it changes your entire jump," Kirillov said. Even with all of Kirillov's experience, he still feels his techniques are improved. "I have been pole vaulting since I was 11 years old and my technique is still progressing. It is far from being complete. It is probably the most technical sport in the world, if you ask me."
As an example, Kirillov describes that if the vaulter is even a fraction of a second late in raising his hands on the approach, he risks running under the pole and ruining his jump.
Even the poles themselves can vary greatly based on the flexibility and energy required from the vaulter.
Kirillov personally brings about ten poles to every meet, and switches to stronger poles as the height-to-clear increases.
Another challenge for him is finding the opportunity to practice his jumps.
Tech does not have an indoor pole vaulting facility, so during the winter months, Kirillov and the rest of the vaulters can only practice when the weather permits it.
"In an ideal world, we would probably jump two or three times a week, and the other days we would probably condition just to stay in shape," Kirillov said.
Kirillov does not practice in an ideal world though, which has added some change to his practice routine.
"Right now we're mostly doing a lot of conditioning since we don't have many days where we can jump due to weather. If we're lucky, we'll jump once a week, and if not, we'll just condition through the week and jump at the next meet."
Kirillov does not let this situation get in the way of his goals. He would like to make it to the NCAA Championships this indoor season and win it in the outdoor season.
He is currently only one foot away from automatically qualifying for indoor. After the NCAA season, he will compete at the IAAF World Championships in Beijing in August.
He hopes that success in these events will lead to his ultimate goal of reaching the Olympics.
"In 2012, I would have told you 100 percent that I'm going [to the Olympics]," Kirillov said. "Right now after having all of these injuries, it's more of a question mark, but I'm working through every injury that I've had, and I'm finally injury-free and back to the same level that I was in 2012. All I have to do towards the end of this season is just build around that, and I believe that if I make worlds this year, then I can make the Olympic team next year."