Men's Basketball
Guards
The Jackets return four guards from last year's team: starting shooting guard Chris Bolden, Solomon Poole, his older brother Stacey Poole Jr. and Corey Heyward. Tech will look to replace former point guard Mfon Udofia and shooting guard Brandon Reed.  Bolden is a sophomore and was one of Tech's best three-point shooters last season. Bolden averaged 7.3 ppg last season and tallied a career high 21 points in Tech's win over the No. 5 ranked Miami Hurricanes. However, Bolden will serve a three game suspension and is expected to earn his starting job back upon his return.
Solomon Poole is a 6-foot sophomore point guard and is expected to make a huge improvement in his game. He was the backup point guard last season and is an electric player. Poole will compete for the starting job throughout the season and will most likely start while Bolden is suspended. Poole must continue to limit his turnovers for the Jackets to succeed this year.
Junior Stacey Poole Jr. could have a much larger role on this year's team. The 6-foot-4 former Kentucky transfer was a reserve on last year's team. Redshirt freshman Heyward could also see the court at point guard after spending last year rehabbing an ACL injury.
Three newcomers join the Jacket team. Trae Golden is one of three and could have the biggest impact out of all the new players. Golden is a 6-foot-2 senior, who transferred to Tech from Tennessee. At Tennessee, Golden averaged 12 points per game last season. He is capable of playing both the point guard and shooting guard positions. Golden is expected to start this season alongside Bolden in the backcourt. The other new guard is Travis Jorgenson. Jorgenson is a 6-foot freshman point guard who could see a considerable amount of playing time this season. Coach Gregory has raved about Jorgenson's shooting and court vision.
Coach Gregory loves to play with lots of guards and the guard unit has a lot of depth this season. This is the most talented group of guards Coach Gregory has coached at Tech and, even though Golden will be only playing at Tech for one season, he will be the most important guard Tech has. Golden is the only senior out of the group and his presence in the program will help the progression of all the younger players.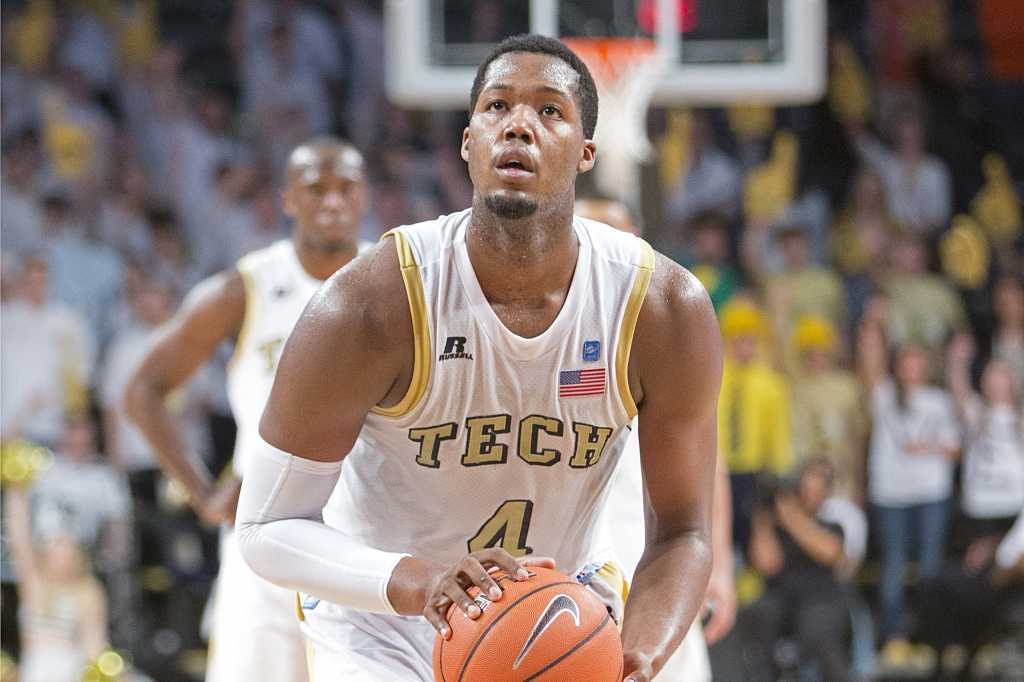 Forwards
The Jackets return their top five frontcourt players from last season including starters Marcus Georges-Hunt, Robert Carter Jr. and Daniel Miller. Georges-Hunt is the starting small forward and was the leading scorer on last year's team averaging 10.8 ppg. He will look to build on his success as a freshman. Last season, Georges-Hunt established himself as the go to player in crunch time. He also had the game winning tip in against Miami last season. It was the first win over a top 10 team in the Brian Gregory era.
Starting at center for the third straight season is the 7-foot Daniel Miller. Miller averaged 8.4 ppg and was second in the ACC in blocks. Miller is one of the most unheralded players in the country and is a true center. He will have a major role on this year's team and will be climbing up the Tech and ACC record books for all-time blocks.
Sophomore Robert Carter Jr. will start once again at power forward. Carter is expected to have a breakout season for the Jackets and will challenge for post-season accolades. Carter is in the best shape of his life and teams will have to plan against his inside-outside game. Carter is also a terrific post player and has a wide arsenal of moves to perform in the paint. Senior Kammeon Holsey is the sixth man for the Jacket squad for the second year in a row. Holsey was an effective post player last season and his depth could be  useful this year. Holsey plays with a lot of poise in the paint and will be an asset come ACC play.
Also returning is senior Jason Morris, but Morris will miss the first part of the season due to foot surgery. Morris has been battling foot injuries his entire career at Tech and will look to return in late November or early December. A great athlete and one of Tech's best wing defenders, Morris will be missed, but will hope to have a major impact in ACC play.
The only newcomer out of the group is Quinton Stephens. Quinton Stephens is a 6-foot-9 freshman from Atlanta, Ga. Stephens is extremely long and can play both forward positions. He will be the second big man off the bench and must continue to add weight onto his frame for him to make an impact this season.
The frontcourt unit is strong this season and, with several seniors on the squad, this is the year for Coach Gregory and the Jackets to make the next big step as a program.
The Jackets are expected to finish in the top half of the new ACC, which could possibly be enough to earn a spot in this year's NCAA tournament.
Women's Basketball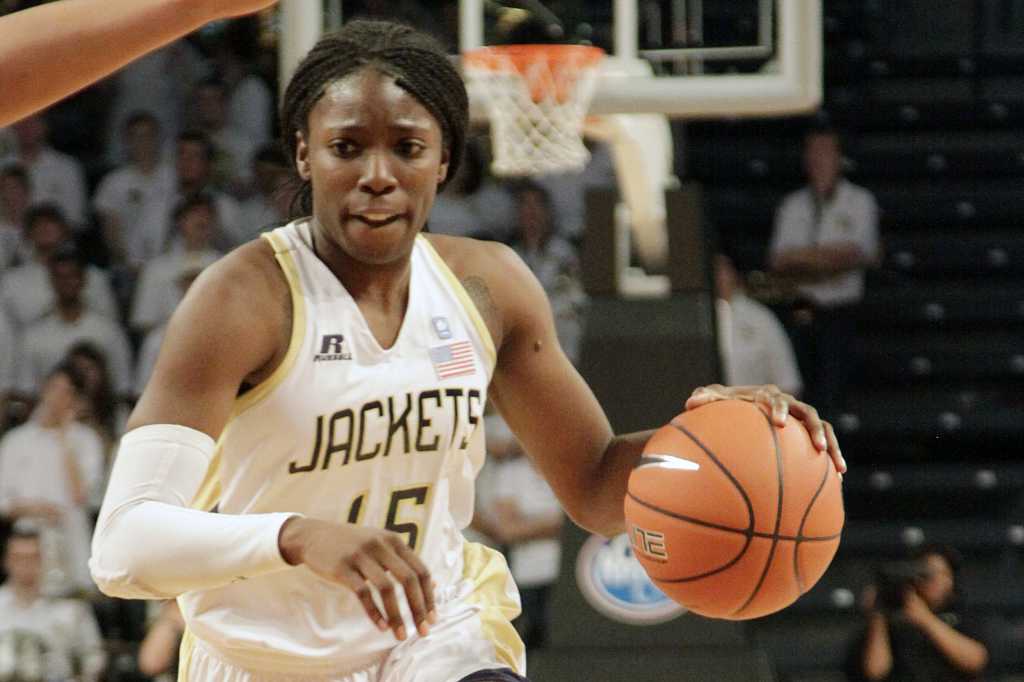 Guards
The Jackets boast a strong backcourt that stands to get even better with the introduction of new faces.
The unit is led by their best returning player, 5-foot-9 senior guard Tyaunna Marshall.  Marshall led the team last season with 18.1 points per game and an astonishing 8.4 rebounds per game, statistics that weren't rivaled by any other member of the Lady Jackets.  She also enters her final season with a long list of accolades including achieving First Team All-ACC team honors last year, after making the Third team in 2011 and Second team in 2012.  As great as she has been throughout her career though, one thing she will look to improve on is her free throw shooting after hitting at just a 58 percent clip last year.
While Marshall was probably the Jacket's best players last season, that may not be the case when the team takes the court this season.  This is because Tech landed No. 2 national recruit Kaela Davis this past offseason.  The Suwanee, Ga. native is the daughter former NBA player Antonio Davis, so basketball is in her blood.  At 6-foot-2, she is tall for a guard, with the ability to handle the ball and make plays as well as step into one of the forward spots and score out of the post. It should be exciting to watch just how much better this freshman will make the team.
The last key guard of note is senior point guard Dawnn Maye.  Maye, who now has two seasons as the starting point guard under her belt, is a crafty player and a true ball distributor with 38 games with at least four assists. She is also known for her tough defense, even registering double digit steals in a game against Marquette last year and has improved her scoring throughout her career, averaging 9.3 points per game last year, up from 6.5 in 2011.
Other key players include sophomore Aaliyah Whitseide, who will occasionally stretch to a forward spot and junior Sydney Wallace. These players are counted on to knock down outside shots as they were two of the most successful 3-point shooters last year, both at 32 percent.
With a strong core of an experienced players, Maye running the offense, two very talented wing players and some returning outside shooters, this looks like a group ready to excel.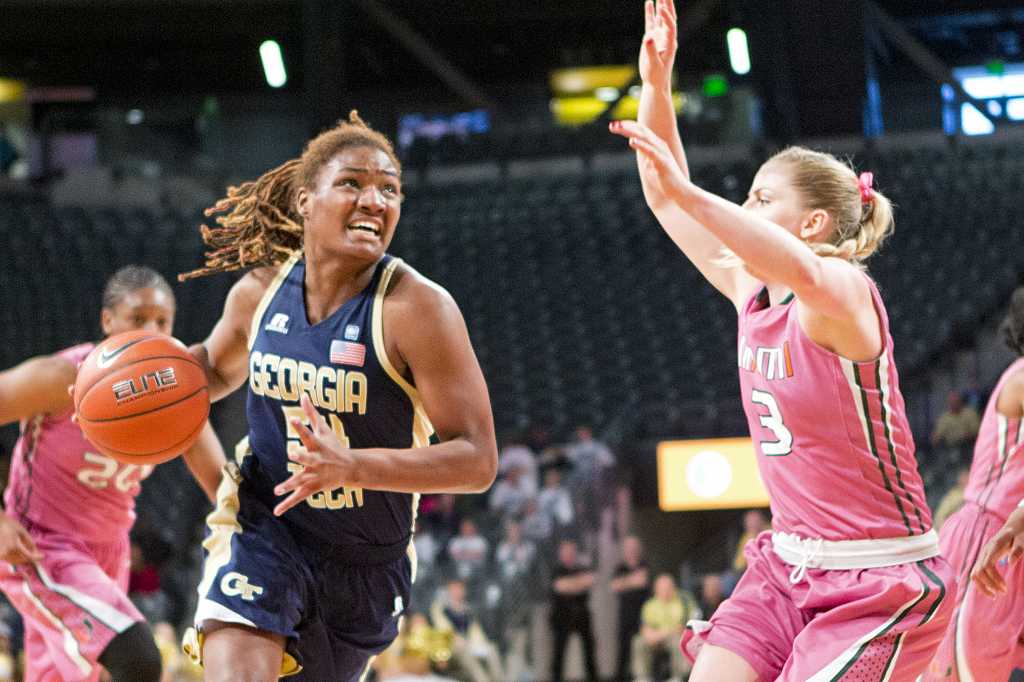 Forwards
Things look less certain with the forwards, a relatively young group that does not return many major players from last year. The good news is that those main returning contributors were  still able to make an impact as freshmen last season. The specific players to highlight are sophomores Nariah Taylor and Roddreka Rogers who turned in productive first seasons with the Jackets last year. Taylor is a big presence at 6-foot-5 and made 15 starts in 29 appearances last year. In just 12 minutes a game, she averaged 2.5 rebounds and also led the team with 20 blocks. Rogers, who started in just 12 games while making the same amount of appearances, established herself as the team's best rebounder after Ty Marshall.
Perhaps the most intriguing piece of this puzzle is another newcomer, Katarina Vuckovic.
As a member of the Serbian youth national team, she will add some international flair and quality playing. Vuckovic represented her country at the 2013 FIBA U19 World Championships where she was third on team in points and fourth in rebounds. She was also the starting power forward for her club team, Crvena Zvezda, in 2012-13, which went 22-3 and finished atop the league standings.
"Kat is one of the top young players in Europe in the class of 2013," said Coach MaChelle Joseph. "She is a versatile post player that will give us much needed depth on the interior. I am impressed with her ability to face up and play on the offensive end from 17 feet in and her passing skills…. The international experience she is having playing on the Serbian U19 team in Lithuania will help Kat transition into the ACC this season."
This year should be seen as a largely developmental year for the Tech forwards.