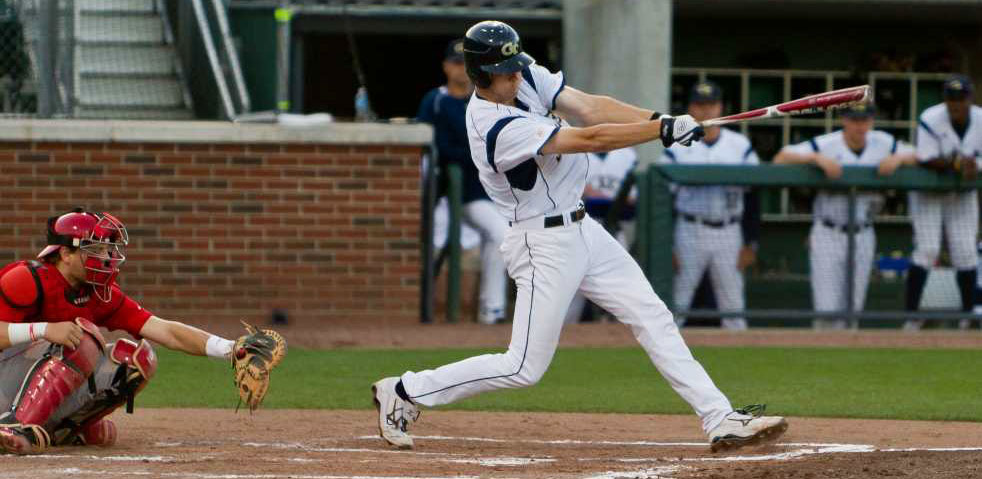 Hitting
Senior Sam Dove, the do-it-all player on the roster, returns for his final season as a Jacket after batting .340, driving in 30 runs, stealing twelve bases and starting every game last season.
Junior shortstop and second baseman Mott Hyde, fresh off of a successful 2012 campaign in which he batted .266 with 33 RBIs and seven home runs, is expected to start at shortstop for the opening game against Akron.
In perhaps one of the most interesting storylines to watch this season, sophomore walk-on second baseman Thomas Smith is expected to produce at a high level after a successful second-half of last season.
Smith lit up the ACC Tournament en route to the Jackets' 2012 championship, during which he was named to the ACC All-Tournament Team. Smith batted a solid .302 with 12 RBIs last season and provided excellent defense while fielding .967.
Sophomore first baseman Charles Sheffield is expected to compete for playing time this season. Sheffield saw limited action in 2012 but demonstrated his versatility in the field and power at the plate, including a 2-2 outing at North Carolina.
Shefield will have huge shoes to fill as he will be replacing former firstbasmen and ACC tournament MVP Jake Davies. Davies led the team in home runs, RBIs, and total bases last season.
Tech returns a talented and fairly young core of catchers in sophomore A.J. Murray, sophomore Connor Lynch, and junior Mitch Earnest. Lynch batted .243 last season including five doubles and had 14 RBIs. Earnest hit a respectable .250 last season to go along with 14 RBIs.
Both Thomas and Wren were selected in the MLB Draft last season.
Tech returns three veteran outfielders in senior Brandon Thomas, junior Daniel Palka, and junior Kyle Wren. Both Thomas and Wren were selected in the MLB Draft last season but elected to stay at Tech for another year. Having both Thomas and Wren return for another year is a big lift for the Jackets as they go for their second consecutive ACC Championship.
Their contributions on both the offensive and defensive sides of the ball are predicted to be significant.
Thomas returns as the team's leading hitter after batting .360 last season with five homeruns, 44 RBIs and twelve stolen bases. Thomas also led the team last season with an on base percentage of .481.
Palka batted an impressive .303 with 12 homeruns and a team-best 19 doubles during the 2012 season. Wren hit .250 last season to go along with22 RBIs. Wren provides some speed as he led the team with six triples last season and a team high 16 stolen bases, only getting caught six times.
Several freshmen, part of Tech's highly touted recruiting class, also will have a chance to make an impact while up to bat. Among these are Dylan Dore, Gregory Feinberg, Matt Gonzalez, Jonathan King, Cole Miller, Grant Wruble and Will Young.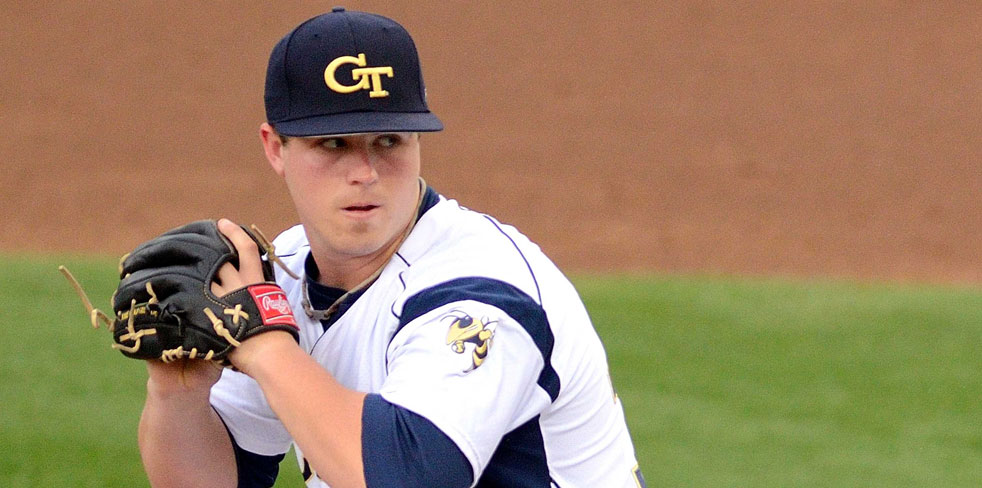 Pitching
With a freshman class addressing the glaring deficiency of left-handed pitchers in the bullpen, the 2013 pitching staff should be a strong, well-balanced unit led by senior preseason All-America right hand pitcher (RHP) Buck Farmer. Farmer, named as a team captain for the season, is expected to hold his spot as the top starter with junior RHP Dusty Isaacs and sophomore RHP Cole Pitts as the other projected starters. Highly touted freshman left hand pitcher (LHP) Jonathan King and junior RHP Jonathan Roberts both had a solid offseason this fall with the Jackets and are expected to compete for a starting position. King and Roberts are likely candidates to see time as midweek starters.
Farmer, a First Team All-ACC selection in 2012, allowed just 100 hits with 115 strikeouts and 37 walks during his junior campaign. Farmer pitched a team-high 106.2 innings last season, posting a 3.54 ERA, highlighted by his complete-game 1-0 shutout against Duke on March 31. Farmer will be expected to continue his high performance as the undisputed leader of the pitching staff. Coming into the season, Farmer has a chance to move into the top 10 in Tech's all-time strikeouts and career wins list, on which he is currently ranked 13th and 15th, respectively.
Isaacs is considered to be one of the better athletes on the pitching staff who started 11 times to start the 2012 season before moving to anchor the bullpen at the end of the year. He finished with a 6-4 record, appearing in 18 games and pitching a 6.55 ERA with 46 strikeouts and 71 hits allowed. Pitts appeared in 19 games with 13 starts in 2012, posting a 4.50 ERA and finishing the year with a 6-4 record. Pitts finished the year pitching for 78.0 total innings, allowing 39 earned runs on 98 hits, while striking batters out 60 times.
King comes into his first season at Tech after a successful senior season of high school during which he was named the Gatorade Player of the Year for Tennessee high school baseball. He addresses the team need for left handed pitchers, and should immediately compete with Isaacs and Pitt for a weekend series starting job.
As far as the reserves go, junior catcher and right hand pitcher Zane Evans should head the bullpen after posting seven saves as a closer last season. Evans had 19 appearances as a pitcher last season while splitting time at catcher, starting once and finishing with a 3.68 ERA. This season, Evans is expected to spend more time pitching as younger players could take over his former role as the team's catcher.
The other highlight of the bullpen is junior RHP Alex Cruz. Cruz's 1.83 ERA in 2012 is the best returning ERA on the roster, as he posted an 8-3 record in 30 appearances. His experience is valuable as he returns the second most innings pitched with 73.2, and allowed only 46 hits and 15 earned runs in that time with 47 strikeouts.
Head Coach Danny Hall has acknowledged that Cruz could be adjusted into a starting pitcher if it becomes a necessity due to injury. However, Cruz's strong pitching ability in the bullpen is more attractive to Hall as he could impact the end of three or four games instead of only playing heavy innings once per week.
Young talent could see significant playing time at the end of games, as freshman southpaw Sam Clay should also impact the bullpen along with King. Junior Devin Stanton also returns to the roster this season after missing the majority of the 2012 season due to injury. Stanton is expected to return from Tommy John's surgery in March.