[media-credit name="Austin Foote" align="alignright" width="237″]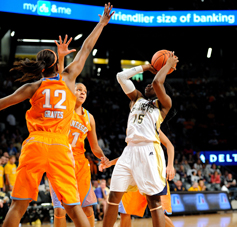 [/media-credit]Coming off of a 2-1 homestand, the Tech women's basketball team went on the road on Friday, Nov. 23, to participate in the San Juan shootout and then to face the Purdue Boilermakers on Wednesday, Nov. 28, in the ACC/Big Ten challenge.
In the Shootout, the Jackets lost 75-72 in overtime against Syracuse before winning against UW-Milwaukee 66-57 in San Juan, P.R. Afterward, they dropped the contest against No. 13 Purdue 85-73. The 1-2 week put the Jackets at 3-3 overall for the season.
Tech kicked off the Shootout with a thrilling finish against the Syracuse Orange, battling back from a 10-point deficit in the second half to force overtime. However, the late second-half push was not enough to propel the Jackets, eventually being outscored 12-9 in the extra period en route to the 75-72 loss.
Junior guard Dawnn Maye led the team with a career-high 26 points for the game on 10-of-20 shooting, and she also notched four rebounds and two assists. Senior forward Jasmine Blain posted her first double-double with 15 rebounds and 13 points in the contest.
Maye continued her hot shooting in the overtime period, scoring eight of the Jackets' nine points, but Syracuse closed the game with free throws to secure the win.
Tech closed out its appearance in the San Juan Shootout with a 66-57 win against UW-Milwaukee. Maye continued her high scoring with 17 points while junior guard Tyaunna Marshall posted 16 points and 10 rebounds for a double-double on the day.
The Jackets did not shoot particularly well in the first half, hitting only 10 of 31 shots in the first half, but they went into the locker room with a 32-26 lead. UW-Milwaukee cut the Jackets' lead to only one several times throughout the second half, but Tech held on to earn the nine point victory.
The Jackets then went to West Lafayette, Ind. to face Purdue to participate in the ACC/Big Ten Challenge. The Jackets fell 85-73 to the Boilermakers to give them their first loss in ACC/Big Ten Challenge games.
Marshall led the team with 26 points, four assists and five rebounds, while Maye contributed 16 points and seven assists.
Tech started the game quickly taking a 23-12 lead early in the first half, but the Boilermakers battled back to tie the game at 32 late in the half.
The game continued to be a back and forth affair until a 12-0 run by Purdue ending with 6:16 left in the game. The deficit was too much to overcome and the Jackets eventually lost 85-73.