[media-credit name="John Nakano" align="alignright" width="741″]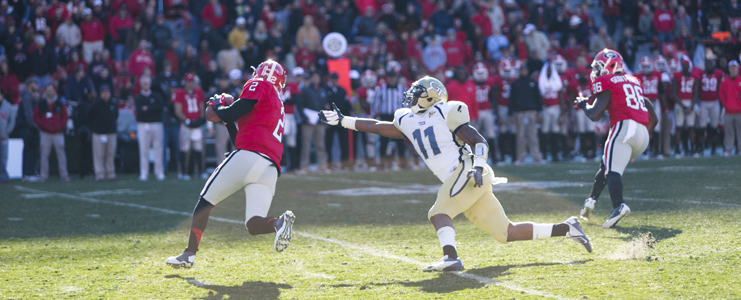 [/media-credit]I really do not know what to say.
That's honestly the only thing that comes to mind when I try to talk about the grand catastrophe/triumph that was/is yet to be the 2012 Tech football team. If you are reading this right now, it's only reasonable to assume you understand the current circumstances; the unfathomable, strange, and secretly exciting circumstances. Nonetheless, for the sake of saying "We are going a conference championship game," I will state the obvious.
Tech—a 6-6 team who has lost three in-conference games, was beaten down by Middle Tennessee State, and was nearly out of contention for a bowl game with four games left on the schedule—is playing for a spot in a BCS bowl game.
The team that fired its defensive coordinator mid-season in hopes of a spark, only to find its points allowed per game rise, finds itself in an opportunity for a big money bowl game. But I guess now that the unthinkable has happened, it's worth revisiting the madness to figure out how we got here.
The completely hypothetical, implausible, "wouldn't it be funny if" idea that Tech could be at this point right now has gone through many phases. It all began during Homecoming week, and somehow the week's festivities must have lent themselves to the small nugget of hope that Jacket fans would receive on game day.
I'm not talking about BYU's 41 points to our 17. I'm talking about FSU completely steamrolling Duke to the tune of 48-7.
Despite a next-to-last position in the Coastal Division, a glimmer of possibility shined on Georgia Tech's chances to reclaim what was long thought to be a lost cause.
If Duke, Virginia Tech, and Miami would all lose out, and Tech could find a way to win out in the ACC, then the Jackets would play in the title game.
The pieces were all there. Duke was totally demoralized, Miami and Virginia Tech were slated to play each another the following week, and UNC was already ineligible.
Still, with Georgia Tech's defense in shambles amid Al Groh's firing, it seemed the only way the team could pull itself together against Maryland would be if, by some completely outlandish coincidence, the opposition played without a quarterback.
On Sunday, October 28, Maryland quarterback Caleb Rowe woke up with pain in his left knee from what he had believed to be a cut on his shin. However, quite to Rowe's disbelief, an MRI exam revealed that his left anterior cruciate ligament had been torn completely from the bone, making Rowe the Terp's fourth quarterback lost to a season ending injury.
His backup would be Shawn Petty, a 6-foot-2, 228-pound linebacker. The Jackets took advantage of this odd circumstance and won easily 33-13, but more importantly still is that Miami knocked Virginia Tech further down in the Coastal rankings, and Duke was trounced yet again.
The events that would unfold over the next two weeks confirmed that the football gods were truly smiling upon Georgia Tech. In order to have a chance of catching Miami, the Jackets would need the 'Canes to lose to Virginia who started the season 0-4 in the ACC.
With six seconds left in the game, Virginia's Michael Rocco completed a miracle ten yard touchdown pass to give the Cavs a 41-40 victory. Shortly after this the Jackets capped off an all-out offensive explosion, putting up 68 points in a win over UNC to draw even atop the Coastal division standings.
The once convoluted, unlikely possibility now hinged on two necessities: 1) We beat Duke. 2) Duke beats Miami. Even as an "ACC" cheer resounded through the student section after the win against Duke, fans knew that they would still need one last small miracle, and on Monday, November 19, that miracle came.
Miami, amidst an ongoing investigation with the NCAA, self-imposed a second consecutive postseason ban.
This brings us to today. On paper, Tech should not win the ACC championship. In this year's installment of "Clean, Old-Fashioned Hate," it became clear that Tech cannot keep up with a much bigger, faster defense. They were manhandled at the point of attack and they looked as if they didn't even belong on the same field. But we were never expected to make it this far anyway.
Sure, there were those people who kept believing even when it looked like there was no hope left, but all things considered, Tech's season was left for dead weeks ago. So with all things considered, it begs the question, "What will become of this year's Georgia Tech squad?"
If you ask me? I don't know. I really don't.