[media-credit name="John Nakano" align="alignright" width="237″]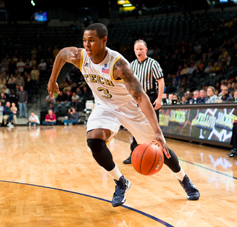 [/media-credit]The men's basketball team traveled to Anaheim, Califronia over Thanksgiving break to compete in the DirecTV Classic. Tech finished third in the eight-team tournament. The Jackets improved to 4-1 on the season.
In the opening round, Tech defeated the Rice Owls 54-36. Tech led by only 8 points at halftime, but started the second half on 13-3 run to pull away from the Owls. Freshman Marcus Georges-Hunt had 11 points and nine rebounds, leading the Jackets in both categories. Senior point guard Mfon Udofia also had a nice game with nine points and three assists. Tech outrebounded Rice 50-26 but continued to struggle from behind the arc, making only three of 18 three-point attempts.
The Jackets suffered their first loss of the season in a hard fought game to Cal in the second round of the tournament 68-57. Cal led Tech by only one point at the halftime, before pulling away in the second half. Tech did a nice job of defending Cal's Allen Crabbe, who came into the tournament leading the nation in scoring, holding him to only 13 points. Cal guard Justin Cobbs stepped up nicely though, scoring 17 points to go with four assists.
Udofia continued his steady play scoring 16 points and only turning it over three times. Junior Kammeon Holsey came off the bench for Tech and contributed 14 points and four rebounds. The three point woes continued for Tech making only two of 15 three point attempts. Cal would later go on to win the DirecTV Classic.
Tech defeated Saint Mary's in the third place game of the tournament 65-56. Tech trailed 26-22 at the half, before an offensive explosion of 43 points in the second half led by junior Brandon Reed. Reed came into this game only averaging 2.2 PPG, but easily outdid that by scoring 19 points. Tech improved as a team, shooting 7-19 from three-point range. Georges-Hunt made two, and even center Robert Carter Jr. made one to go along with Reed's 4. Tech also had an impressive night from the free throw line shooting 18-21. Tech was outrebounded by Saint Mary's 36-24, but Tech balanced out the turnover differential by committing 10 less turnovers.