[media-credit name="GTAA" align="alignright" width="237″]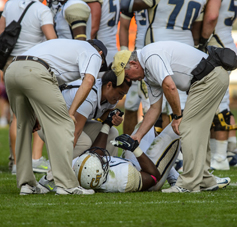 [/media-credit]So much happens on a game day that the amount of preparation outside of football practice and coaching can get lost in the spirit of football. But for Jay Shoop, the Director of Sports Medicine and Head Trainer for Georgia Tech, preparation for game day is a full time job.
"When we start football, there are no days off. We started off Aug. 1, and we go every day. Even if the players have a day off, they still have to come in for treatment, to try and get better. So its seven days a week," Shoop said.
The first treatment for football players begins at 6:30 a.m., followed by an 8 a.m. staff meeting between both the football coaching staff and the training staff to decide who can and cannot participate in practice that day. Following the meeting, Shoop and his staff meet with players individually for rehabilitation sessions, another treatment session, and begin preparing for daily practice at 1 p.m. with taping, bracing, and wrapping. Football practice does not end until 6 p.m., and there is another treatment in the training room that keeps trainers busy until 7:30 p.m. at the earliest.
Shoop is always on the field with the team, whether it is a home or away game. He also goes to the hotel with the team in case of problems prior to the game.
"I personally love noon games because it's early, we get finished and we get a chance to take a deep breath," Shoop said.
The training staff arrives at the field two hours before kickoff to take care of all treatments, and sticks around in case of any on-field injuries.
Shoop has plenty of great memories from his long career of working with the Jackets. Shoop began working for Tech as Director of Sports Medicine in 1987 and served until 1999, returning in 2002 after serving as head trainer for the Detroit Lions.
"The greatest joy we get out of this is to go through rehab with an athlete that has had a major injury and actually see them get back to the playing field and when they get back to the point where they are functioning and doing well again, for them to just come back and say thank you. That makes it all worthwhile," Shoop said.