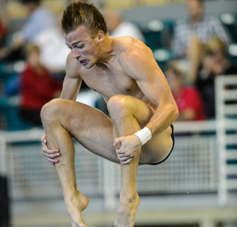 The Tech men's swim team fell this past weekend to Virginia Tech, and the women lost out against Virginia Tech and Florida Gulf Coast. The men are now 1-2 overall and 0-1 in the ACC, while the women are 1-3 overall and 0-1 in the ACC.
The men were able to take the gold in nine events, but it was not sufficient for a victory over the Hokies, who secured a 178-122 victory. The women did not fare as well, winning only one event. Virginia Tech defeated the Georgia Tech women 221-79 and Florida Gulf Coast won 169-131.
Sophomore Andrew Kosic led the men to victory in the 400 medley and 200-meter free relays, and also took first in the 50-meter and 100-meter freestyle individual events. Kosic finished the 50 free with a time of 20.54 seconds and took the 100 free in 45.07 seconds.
Tech picked up wins in a pair of relay events. Senior Bo Hatchett, redshirt senior Matthew Vaughan, and sophomore Nico van Duijn were on the 400 medley relay team with Kosic and completed the race in 3:18.98. For the 200 free relay, van Duijn and Kosic joined sophomore Andrew Chetcuti and senior Eric Chiu to finish with a final time of 1:22.38 in the victory.
Vaughan and van Dujin accounted for the team's other three victories. Vaughn won the 100-meter and 200-meter breaststroke events in 55.87 seconds and 2:04.32, respectively. Van Duijn took the 100-meter butterfly event with a time of 48.99 seconds.
On the springboards, senior Brandon Makinson won both the 1 and 3 meter dive events, scoring 361.60 points in the 1 meter and 380.85 off the 3 meter.
The Tech women picked up a victory in only one event when sophomore Kate Woolbright took the 1650 freestyle with a time of 17:09.94.
The Jackets' next event will be the Georgia Tech Invitational, hosted from Nov. 30 to Dec. 2.