[media-credit name="Josh Sandler" align="alignright" width="237″]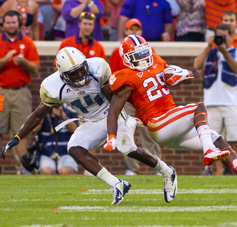 [/media-credit]With just 44 seconds remaining, Al Groh's defense took the field with the game on the line, 75 yards of room to work with, and everything to prove.  13 seconds later, the Hokies were 12 yards out of field goal range with all three timeouts remaining.  Two overtime series, a handful of whiffed open-field tackles, and one gut wrenching field goal later, the win that seemed too good to be true was reduced to just that.
This season's opener against No. 16 Virginia Tech did nothing if not foreshadow what is quickly becoming one of the most tumultuous years of Tech football. In six games under Groh, Tech's defense allowed 431 yards per game and 181 total points- good for 90th and 89th in the nation, respectively.  In five of these six games, the Jackets maintained the lead on multiple occasions- the exception being against MTSU where Tech trailed from the 6:30 mark in the first quarter onward. In the Miami game the defense failed to protect a giant field position advantage of 91 yards with 2:00 left on the clock, allowing the Canes to waltz down the field and eventually claim victory in overtime.  There is absolutely no question that Al Groh's system did not work, and for anyone who is not convinced, let's analyze how everything went so terribly wrong.
The most audacious flaw in Groh's scheme was his squad's constant inability to stop plays in the middle of the field.  There are many reasons for this, but to blame shortcomings on a lack of skill is a disgusting insult to highly recruited division one athletes.  Nevertheless, Al Groh unrelentingly stuck by a 3-4 scheme despite a strong secondary and linebacking corps.  This alignment diluted the defensive line and inhibited pocket pressure, forcing linebackers and safeties to constantly make tough plays in the open field.  The harder Groh tried to push a square peg group of players into a round hole formation, the more he encouraged big yardage plays over the middle of the field.  Much of the same happened in 2011 when Tech's defense failed to hold its own in the Sun Bowl.  Up by two touchdowns with 6:55 left in the game, Utah's Jon Hays carved up Tech's secondary through the air, and Utah won in overtime.  Furthermore, in this season's losses to Virginia Tech and Miami—which seemed like the same game in many respects—the combined 15 final drive passing plays saw the opposing quarterback never once touched by a Tech lineman.
Firing an assistant mid-season, especially in the college game, is the absolute final option that no head coach wants to take.  Although, in this case, it was inevitable decision that head coach Paul Johnson had to make. In his first season, Al Groh did see marginal success; however, as time passed, it was clear that his vision did not belong.  Amid a three week period in which Al Groh was fired and Athletic Director Dan Radakovich announced his departure, it is certain that football at Tech is headed toward drastic change.