[media-credit name="John Nakano" align="alignright" width="237″]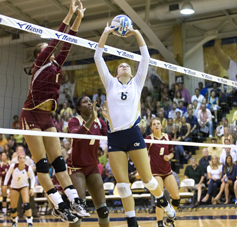 [/media-credit]Tech has gotten off to hot start in 2012; however, the team has yet to successfully perform on the road. Despite an 11-4 overall record and a 3-2 record in conference, Tech is 0-4 when away from O'Keefe Gym. After an unsuccessful road trip to North Carolina, the Jackets are looking to regroup as they head into the bulk of their ACC schedule.
Tech took on N.C. State on day one of their weekend in the state of N.C. Despite grabbing an early 8-3 lead, Tech could not stop an 11-3 N.C. State run, as the score flipped to 14-11 in favor of the home team. The Wolfpack took an early 1-0 lead in the match on a 25-21 victory in set one.
The second set went quite differently, as Tech stormed out to a 14-7 lead and was determined not to squander it. Senior rightside hitter Monique Mead effectively nailed the coffin shut when she notched four straight serving aces to go up 23-11 on the way to a 25-12 win.
Tech carried this momentum into the third set, and, with junior outside hitter Jennifer Percy leading the way with five kills, took the set 25-17.
Tech could not manage to hold its 2-1 edge for very long, as N.C. State staked down the fourth set in commanding fashion by a score of 25-15, forcing a decisive fifth set.
The fifth set, which was tied on eight different occasions, provided plenty of excitement including five different lead changes. Nevertheless, after capitalizing on a few opposing mistakes, N.C. State claimed the set and match.
Two days later the Jackets headed west to Chapel Hill to face North Carolina. UNC took command early, and Tech found itself playing catch up for a majority of the match. Down 23-18 in the first, Tech nearly pulled ahead and did force the set into tiebreak points; however, they squandered two set points and dropped the fourth set 29-27.
This trend continued, and with a 21-20 lead in hand, Tech surrendered three consecutive points and lost by a count of 25-22. The Jackets never once possessed the lead in the third and ultimately final frame, losing 25-19.
Despite going 0-2 on the road trip, Tech showed some encouraging signs. Mead continued to power the attack as usual, recording nine service aces against N.C. State, the second-most by an individual in school history. Mead and senior outside hitter Bailey Hunter both recorded 10 kills and nine digs against UNC.  Freshman middle blocker Chanell Clark-Bibbs did her part by hitting for a team best .529 in her first career start.
Georgia Tech looks to bounce back from this past weekend's disappointment as they take on Virginia Tech on Oct. 5 and Virginia the following day at O'Keefe Gym.