[media-credit name="Austin Foote" align="alignright" width="741″]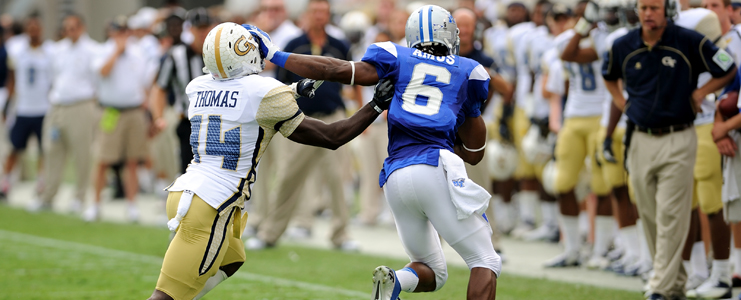 [/media-credit]Tech football is at a crossroads. Regardless of the chosen path, Tech will take the field next season with the same kind of youthful exuberance that any team would exude with the endless possibilities of a new season. But this crossroads is different. This choice is one of those that can define a program. Will Tech fall into its usual sorry road of mediocrity, heartbreak and predictability? Or is this the year that Tech, in the midst of the greatest scrutiny it has experienced in years, turns the corner and writes a different ending to the old and beaten script?
Quite frankly, this season is not lost. Tech has a chance to beat Clemson for the eighth time in the last 10 meetings, beat UNC for the fourth year in a row, beat Georgia for the first time since 2008, and win a bowl game for the first time since 2004. Strangely enough, even the ACC title game is not entirely out of the question; a three-loss Florida State team in 2005 and three-loss Boston College and Virginia Tech teams in 2008 all made it to the conference title game.  But it is up to the players to make that choice. It would be very easy for the players to call it in for the last seven games of the season and give up.
Winning a football game is the culmination of efforts from many different sources. It requires successful recruiting efforts to get the best players possible, proper preparation for the opposing team and excellent execution of the gameplan. But what most tend to overlook is that the opposing team is doing the exact same thing to try and win themselves. And no matter how much effort both teams put into accomplishing this goal, the harsh reality of the situation is that somebody will lose.
Yet MTSU took advantage of an opportunity and executed plays, while Tech did not. MTSU went outside of their playbook, learned from the no-huddle success of Miami, and ran a bubble screen play Tech never saw on film from them. And Tech did not know how to stop it. That is football.
The Jackets, highly regarded as one of the best adjusting teams back in Head Coach Paul Johnson's first years at the helm, failed in exactly that, adjusting. And perhaps that game is a microcosm of what is wrong with this program—the foreboding cloud that has been sitting over Bobby Dodd Stadium for the past decade.  Tech's mindset needs adjusting.
There are many changes that need to be made with this program, both externally and internally—changes that will undoubtedly be made. In the meantime, however, a group of 112 men have an opportunity to represent a school that is a source of pride for a vast number of current students and graduates. Winning games will not necessarily be what defines this 2012 team. The heart, effort, and path this team chooses will be the defining attribute far more than just this year's win-loss record.
Tech plays at Clemson on Saturday at 3:30 on national television. At the conclusion of that game Tech fans will know the path this team has chosen.