[media-credit name="Austin Foote" align="alignright" width="237″]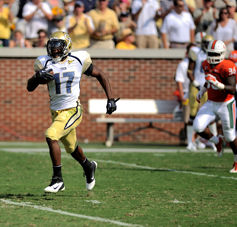 [/media-credit]Perhaps naturally, one of the strengths of Tech's spread option attack over Head Coach Paul Johnson's five seasons has been the offensive backfield. The fact that the offense is highly predicated on runs from a plethora of running backs makes for an attractive selling point for potential high school recruits. As a result, Tech has been able to recruit decent talent at both the B-back and A-back positions in the Johnson era.
Within the backfield rotation is the unique case of senior A-back Orwin Smith and redshirt sophomore A-back Deon Hill. It is a case of a high school star running back and his backup, and of a star senior running back getting a Division I offer and accepting. A year later, the backup, one year his junior, becomes the new star and follows his predecessor to the same college.
Smith, a star at Central High School in Phenix City, Ala., amassed over 1200 yards rushing in both his junior and senior years with a total of 30 touchdowns, including a school-record 18 scores during his senior year.
Smith's strong performances earned him a first team all-state honor and an appearance in the prestigious Alabama-Mississippi All Star Classic. Ultimately, the six-foot, 205-pound running back saw Tech as his best option.
Taking advantage of his opportunity, Smith has become a staple in Tech's run-first offense, earning third-team All-ACC honors in 2011 and preseason second-team All-ACC this year while rushing for over 1300 yards and 17 touchdowns in his career to date.
With Smith piling up the numbers in Tech's offense, another running back from the same school in Phenix City saw the same bright opportunities in his future, and Hill signed on with Tech as the 2010 recruiting season came to a close.
"I know [Tech's] going to run the ball definitely. [Smith] said it would be great to have us both in their backfield together again," said Hill at his signing day in 2010, according to www.pcboe.net.
Hill, a back almost identical in size and stature to Smith, spent most of his high school career backing up Smith before stepping in as a senior at Central. In that season, he rushed for 1587 yards and 18 touchdowns in his lone campaign as the starter.
After an injury to Smith in the first half of the Virginia Tech game, Hill became a bigger factor in the offense and had an effective game over the final stretch, scoring a go-ahead receiving touchdown in the final minute of the game. It was his first touchdown since he recorded a short-yardage score against Western Carolina last year.
The senior Smith remains the biggest weapon in the A-back rotation, but Hill remains ready to step in and, once Smith is gone, potentially step into the vacated role as the top option on the edge for the Jackets.