[media-credit name="John Nakano" align="alignright" width="237″]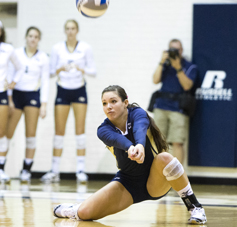 [/media-credit]
The Tech women's volleyball team improved to 5-0 at home and 9-2 overall with wins over Clemson—25-15, 25-20, 25-15—and Georgia State—25-14, 25-15, 25-18—over the weekend in the Courtyard Classic. Notching its first victory over Clemson since 2010 and securing its first shut-out since 2005 over the Tigers, Tech made short work of its in conference rivals on Friday night.  Tech also showed promise and energy by finishing out the weekend with a shut-out of the Georgia State Panthers on Sunday afternoon.
Against Clemson, senior right-side hitter Monique Mead lead the Jackets with 16 kills and redshirt senior outside hitter Bailey Hunter contributed 15, helping Tech build an eight to one first set lead over the Tigers. Senior libero Nicki Meyer was excellent defensively, contributing 11 digs and combining with Tech's front line to shut down Clemson's strong offensive attack. Junior setter Kaleigh Colson was a major reason for Tech's early success, recording five total blocks and running the offensive attack with precision.
"Kaleigh Colson ran a great offense and picked the right hitters every time," said Coach Tonya Johnson, according to ramblinwreck.com.
Colson's decision making opened up offensive lanes for Tech's hitters, who finished with a .336 hitting percentage, over two points higher than Clemson's .100 percent, helping control the momentum inside of a raucous O'Keefe Gymnasium. With the win, Tech begins the ACC conference schedule in the win column and enters the discussion for a national ranking.
On the Sunday matinée, Hunter lead the team with 15 kills en route to Courtyard Classic MVP honors, and Meyer recorded a season high 20 digs, leading the Jackets to a sweep of neighboring Georgia State. Mead and Colson were also members of the All-Courtyard Tournament team.
Tech was tested early and often by the Panthers, but were able to pull away at the end of each set, thanks in large part to Mead's aces and the consistent hitting percentage Tech continued to play with. Freshman Chanell Clark-Bibbs played in her first game and Tech used 13 players in the tournament. Colson lead the team with a .667 hitting percentage.
After the team's success this weekend, Hunter was named ACC player of the week along with FSU's Fatma Wildirim.
Tech looks to improve to 2-0 in the conference and 5-0 at home as they take on ACC conference foes Boston College on Friday, Sept. 21, and Maryland on Sunday, Sept. 23, at home.