[media-credit name="Austin Foote" align="alignright" width="741″]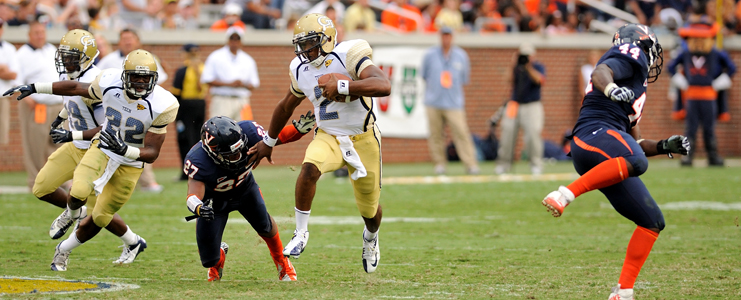 [/media-credit]On Tech's first play from scrimmage of an eventual 56-20 defeat of Virginia, sophomore Zach Laskey ran a perfect route, got separation from his defender, caught the ball and ran 43 yards to give his side a quick 7-0 lead against the team who ended the Jackets' undefeated season just a year ago. On the second play of the next drive, senior Orwin Smith stormed 77 yards down the sideline and into the end zone. He would go on to amass 137 yards on the ground and 173 all-purpose yards. Tech's defense, which was the source of much speculation after the 2011 season, held Virginia to 122 rushing yards and forced a loss of 24 yards. This is the same team that ran for 274 yards on in a 24-21 victory last year. And somehow, despite all other positives, the magnifying glass remains focused intensely on the quarterback position.  What's the depth chart?  Who's the backup—is it Synjyn or Vad?  Where's Synjyn's playing time?  Will Vad overtake Tevin?  Who is best suited for the option?  From each game arises an incessant stream of questions about one position out of 22 players on the field at a given time.
Head Coach Paul Johnson will be the last to give any hints regarding the quarterbacks and who will be starting each game. Johnson also recognizes the peculiar attention that is placed on the depth chart at quarterback.
"The thing that's remarkable, because of the position, the most popular guy on the team is always the backup quarterback. Once Vad plays for a while, it'll probably be Justin [Thomas]. Everywhere I've coached, that's just the way it is," Johnson said, according to ajc.com. "Anthony Harrell went in at linebacker and knocked the snot out of some people and caused two fumbles and nobody's wanting to know if he's going to play again.  Trey Braun went in and played offensive guard and did really well, but nobody's wondering when he's going to play again."
Johnson is right about the nature of the position.  The quarterback, more than most any position in other major team sports, holds a dominating roll in the team dynamic.    He accounts for every offensive touchdown play in some way, shape, or form, whether that be by handing off the football or by disguising a great play fake, shuffling out of the pocket, and threading the needle through triple coverage.
In Tech's triple option, this role is amplified, as the quarterback is charged with making plays with his feet as well as with his arm. Furthermore, the Jackets are blessed to have three young men who can do this very well. Unfortunately, players like Anthony Harrell and Trey Braun tend to go unnoticed in such a flashy, big-yardage type offense. Nonetheless, these are the players, a linebacker and an offensive lineman, that the fans should watch most closely: the linebackers because inconsistencies in Tech's defense has cost them in the past, and the linemen because the triple option is completely dependent on picking up blocks and finding seams generated by the offensive line.
"It would depend on the situation. Synjyn (Days) is playing A-back mostly in practice, but he'll still spend some time at quarterback depending on what you're trying to do and what gives you the best chance," Johnson said. "It's hopeful that as we move along, [Lee] will progress himself to the point that you feel good about him in that situation, could possibly progress to the point where he's playing all the time some. I don't know that he will beat the other guy (Tevin Washington) out this year, but there could be a situation where, if he progresses and continues to get better, that we could play with both of them some."
Regardless of the impact of any player who isn't named Washington, Days, or Lee, in an offense as explosive as Paul Johnson's triple option, all eyes will be focused on Tech's three-headed passing attack.  Coach's recent comments shed some light on the situation and more or less explain the current balance of power.  Although not much was revealed, hopefully it's enough to quell the masses for a while so they can regroup from last week and worry about routing the Jackets on to a victory against Miami.