[media-credit name="Athletic Association" align="alignright" width="237″]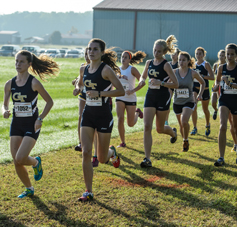 [/media-credit]The women's cross-country team took second place while the men's came in fourth at the Virginia Tech Invitational meet on Friday, Sept. 14. As is the standard in NCAA cross-country, the men ran an 8K while the women ran a 6K. Nine teams competed in each race, including three of Tech's conference foes, host Virginia Tech, Florida State, and Wake Forest. Florida State won both races, sweeping the 6K and taking the top three in the 8K.
The top seven finishers in the women's race were all Seminoles, giving Florida State the win with 15 points. Tech came in second with 76 points, edging out Wake Forest by one. Sophomore Katie Townsend led the way for the Jackets, finishing in 18th place with a career-best time of 22:35.83. Her teammate, senior Mary Kate DuBard, was the next to cross the line, finishing 19th with a time of 2:42.15. The other point scorers for Tech were freshman Kaylee Isaacs, finishing 22nd with a time of 22:50.46 in her first collegiate race; freshman Caroline Kissel, finishing 25th with a time of 22:53.07; and sophomore Rachael Hammond, finishing 33rd with a time of 23:08.64. Isaacs was neck-and-neck with a Wake Forest runner towards the end, and she managed to finish ahead by a second. Had she lost this battle, Tech would have finished behind the Demon Deacons in the team score.
The men's race was not as tight for the Jackets, who finished the day in fourth place. Sophomore Jeremy Greenwald was the first Tech finisher, coming in 10th with a time of 25:34.42, over a minute faster than his time from the previous meet.
The teams will race again on Saturday, September 29th, at the Greater Louisville Classic in Louisville, KY.