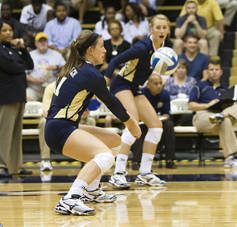 The Jackets headed south to Gainesville, Fla. this past weekend for the Active Ankle Challenge hosted by the University of Florida. Tech, which was 5-1 heading into the weekend, swept Louisiana-Lafayette in its first match by a count of 25-18, 25-22, 25-20. Despite finding themselves in a early 8-5 first set deficit, the Jackets took the lead and never looked back.
Senior rightside hitter Monique Mead stepped up with another big performance, recording 11 kills and 10 digs for her fourth double-double of 2012. Also contributing were sophomore outside hitter Courtney Felinski, who had 11 kills and three blocks, and senior outside hitter Bailey Hunter, who recorded nine kills and 14 digs. Felinski's 11 kills were a career high  and Hunter's 14 digs led the team.
The next day, the Jackets took on Jacksonville in what proved to be an equally quick match. Tech cruised to a 25-17, 25-16, 25-16 victory, rarely finding itself in any high pressue situations.
The Jacksonville match had historical implications for Hunter, who entered the match two kills shy of 1000 for her career. She passed the mark, landing a team-high 11 kills, bringing her total kills to 1009. Junior middle blocker Quinn Evans also played a solid match, as she tallied two blocks and eight kills on 10 attacks with no errors.
In the tournament's final match, the Jackets met up with the No. 15 Florida Gators. Tech took the first set largely behind strong service by Mead, winning the first set 25-22.
However, the Gators were quick to respond, and they dominated the second set 25-15. The 15 points were the least Tech has scored in a set all season.
The third set was up in the air for much of the set, as the lead changed eight times. However, the set finally swung in favor of the Gators, 25-21.
In the fourth and final set, the Jackets came within a point of the lead at 13-12, but, after Florida went on a 7-2 run to take a four-point lead, Tech could not keep up and lost the set 25-22.
The Jackets, now 7-2, look to bounce back from this loss at this weekend's Georgia Tech Courtyard Classic at O'Keefe Gym. The tournament features ACC rival Clemson on Friday at 7 p.m., and cross-town rival Georgia State on Saturday at 11 a.m. The key game this weekend will be against Clemson.