[media-credit name="Jason Ossey" align="alignright" width="237″]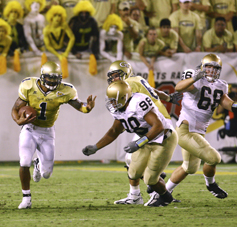 [/media-credit]The ACC and the University of Notre Dame officially announced a partnership on Wednesday, Sept. 12, in which the Fighting Irish would join in every sport aside from football, where they currently act as an independent. With the arrangement, Notre Dame will play five "non-conference" matchups against ACC teams each season for football while playing a full conference schedule in all other Division I athletics.
"This is truly a great day for the Atlantic Coast Conference and for Georgia Tech […] From so many angles, this relationship will enhance the rich tradition of our league and provide new and exciting opportunities for Georgia Tech and the ACC," said Director of Athletics Dan Radakovich, courtesy of ramblinwreck.com.
Notre Dame becomes the first school to join the conference that is not required to be a full participant in all athletics, largely due to their lucrative TV contract and historical status as a football independent.
As a current member of the Big East Conference, Notre Dame must pay a $5 million exit fee and can not leave the conference until 27 months after the announcement. However, those figures are not set in stone, as new ACC members Pittsburgh and Syracuse recently negotiated $7.5 million settlements in order to leave the Big East early to start ACC play in July 2013.
As a result of Notre Dame joining the ACC, the conference also proposed an increase in its exit fee to three times the conference's annual budget—a total of more than $50 million. As a result, Tech and other members of the ACC can put conference realignment discussions to rest, as an ACC team is now highly unlikely to leave for another conference.
While the addition of Notre Dame puts the ACC at an uneven 15 members, the conference has no plans of expanding to include a 16th school.