Freshman pole vaulter Nikita Kirillov set a new US Junior meet record with a vault of 5.54m over the weekend. The vault eclipsed the record set in 1993 by an inch. The meet record and first place finish in the 2012 US Junior Track and Field Championships qualified Kirillov for the Junior World Championships taking place in Barcelona, Spain, later this summer.
Kirillov not only made U.S. Junior Meet history, but also became the only Jacket ever to clear 17 and 18 feet.
Kirillov made his first successful jump at 5.10 meters before standing alone as the only competitor to clear the 5.35m height. Following this success, Kirillov attempted a height that a few months ago was unthinkable to him.
"I wasn't expecting to go to trials this year, it's really a dream come true…I've been competing for 7 months, the goal right now is to not get injured," Kirillov said.
Kirillov's father, Victor Kirillov, has coached his son both at his high school, St. Pius X, and here at Tech as a member of the Tech coaching staff.
"It [stinks] at times, but I wouldn't trade him for any other coach. No other coach in the world can coach me like my dad does," Kirillov said on having his dad coach him.
Success for the Track and Field program continued about 500 miles away in Des Moines, Iowa. Sophomore long jumper Julienne McKee finished 10th in the Long Jump at the NCAA Championships, securing a new school record distance of 6.30m. McKee beat a 20'7.5" jump by Jessica DeFreitas in 2003.
With the place, McKee was named a second-team All-American, the highest Jacket on the list since Shantia Moss was a First Team All-American in the 100m Hurdles in 2008. To top it off, McKee finished 13th in the triple jump the following day with a jump of 12.96m which gave her her second All-American honor this year, and topped her previous high finish of 22nd. McKee will look to improve her distances at the start of the next track season, and she will enter the year as one of the favorites at next year's Outdoor Championships.[media-credit id=7 align="aligncenter" width="237″]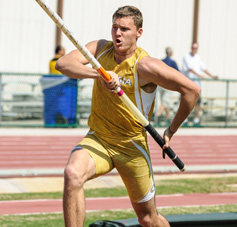 [/media-credit]