Thirteen years ago, at the end of a professional tennis career that once saw him ranked as high as 55th in the world, former women's tennis head coach Bryan Shelton chose to return to his alma mater and take the head coach position. Now, after transforming the program into a national powerhouse, Shelton is leaving Tech to lead the men's tennis team at the University of Florida, a team that has only reached the NCAA semifinals twice in the last eighty years.
During the first 21 years of the program, Tech's women's tennis team never once earned a spot in the NCAA Tournament. In 2000, during his first season as head coach, Shelton and his team reached the second round of the NCAA Tournament. Furthermore, by the end of his career at Tech, he captured four ACC championships, including a three-year reign as both ACC regular season and tournament champs.
Success did not come instantly for Shelton and his team. Despite initial success in his rookie season as head coach, it was not until 2005 that the team made it to the Sweet 16. That season Tech also notched their first ACC title, thus sparking a winning trend. The team repeated this feat again in 2006, as they reached the Sweet 16, claimed another ACC title, and were at one point ranked No. 1 in the nation.
Shelton's breakthrough came in 2007, when his Jackets took on UCLA in the biggest match of his coaching career, the NCAA National Championship. Tech secured its first and only NCAA team championship off of key victories from former tech players Christy Striplin and Alison Silverio.
During his career, he amassed a long list of accolades and achievements, including 2007 National Champion, 2007 and 2008 ITA National Indoor Team Champion, 2005-2007 and 2010 ACC Champion, 2005-2008 ACC Regular Season Champion, 12 NCAA Tournament appearances, 2007 USTA/ITA National Coach of the Year, four-time ACC Coach of the Year and two-time Georgia Tech Hall of Fame Inductee. Shelton is also the winningest coach in Tech history.
"It is with mixed emotions that I am leaving Georgia Tech, a place that has been home to me and my family for many years…These have been 13 of the best years of my life and I owe Georgia Tech an incredible amount…I want to say thank you to the Georgia Tech family for embracing me and my family, and for the opportunity to coach at my alma mater," Shelton said in a recent press release.[media-credit id=7 align="aligncenter" width="741″]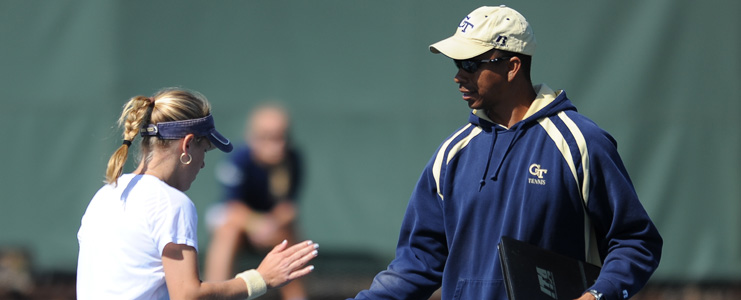 [/media-credit]