[media-credit id=15 align="alignleft" width="234″]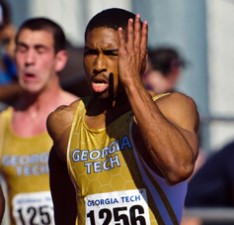 [/media-credit]Technique: What have you done in preparation for this season?
Jones: A lot of training and a lot of studying because everyone has certain flaws when they run. So basically, I have been studying film of myself and studying film of others and just working on correcting things in practice day in and day out.
Technique: What goes through your mind when you're at the start line?
Jones: First, I think of everything I have to do throughout the race. Then I kind of just stop thinking, and I break it up into sections. Right before I hear "go," I'm only thinking one thing, that's just react to the sound of the gun. As soon as the gun goes off, I just think about what steps I need to take. I just focus on myself and not anybody in the other lanes.
Technique: What were you thinking when you found out that you broke the school record?
Jones: It felt really weird because I felt like I was going fast, but I haven't had much success on Lexington's Track. So when I crossed the line, I immediately looked at the score board and I was like, "This time better be low."  So when it came up I was just really happy. I didn't know what to think I was just happy. I couldn't celebrate too long because I had to get ready for the 200, but it was just overall excitement.
Technique: How do you prepare both mentally and physically the night before a race?
Jones: The night before I just look at a little film and I get some good rest. You run through the races in your head, study film and then you go get some good sleep, because that's necessary. The studying film part may be odd because people think, "Oh it's just running," but there are a lot of things that you have to pay attention to.
Technique: What would you say are some components to your success as a track star?
Jones: I would say listening to my coach and not being stubborn. Trusting the changes that I make, because when I came here I had to make some really dramatic changes. Also executing, not getting caught up in the midst of competition and forgetting what you have to do.
Technique: What is your motto, or advice that you live by?
Jones: Lately I picked up this motto that, when you want to succeed as bad as you want to breathe, you will succeed.
Technique: What is your diet like?
Jones: I have actually been pretty careful lately. I really don't eat as much fast food as I used to, but I'm a college student so I eat in the dining halls. I don't drink anything outside of water and Powerade. I love my apple and orange juice, but I just watch out for all the sugars I eat and stuff.
Technique: If you weren't running track would you play another sport? What would it be?
Jones: It would probably be football because I used to play in high school and I loved it. But other than that I'd probably be a dedicated student, and try to make more money in my field of study. [Laughs]
Technique: Who is your favorite athlete?
Jones: I have two in different sports. I like Tyson Gay on the track because of course he's running my event, works hard and is very humble. I've seen a couple interviews and he's not cocky and he has a great attitude. Champ Bailey is my other favorite. He has been my role model for a while, actually since middle school. He's the cornerback for the Denver Broncos now.
Technique: What is your idea of a perfect day?
Jones: I wake up and listen to music. It gets me going. I  either have one or two classes or even no classes. I have a great practice or competition. I have time to talk to my family and hopefully a day that consists of a lot of music and a lot of smiling. That's pretty much it. I don't need much to excite me, I just need to have no problems and I'm good.
Technique: What are five things you cannot live without?
Jones: God, my mom, music, my laptop, and the last thing is laughing. I have to laugh. If I'm laughing, I'm having a good day.
Technique: What is your favorite song to listen to in the car/shower/while training?
Jones: My roommate is going to laugh at me for this, but I'm a huge fan of Young Drew. That's  a pretty hard question. I can't pick a favorite because I listen to too much of a variety of music to pick a favorite.
Technique: If you were an animal what would you be and why?
Jones: I would be a white tiger because they look sick and they're beast.
Technique: If someone were to play you in a movie of your life who would it be?
Jones: I wanna to say Mike Epps.
Technique: What is your dream job?
Jones: I'm a computer science major, so I would say working at Microsoft.
Technique: If you could trade places with anyone who would it be and why?
Jones: I would trade places with Bill Gates because he is the benchmark in my field of study, and he has just accomplished a lot of goals and he's still striving even though he has a lot.
Technique: Where do you see yourself in ten years?
Jones: I see myself going back to my high school reunion in a helicopter, so basically successful.