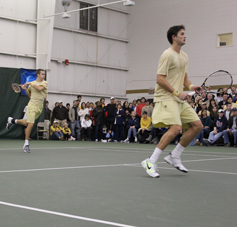 Senior tennis player Kevin King and junior Juan Spir concluded their fall season this past weekend in Flushing, NY, at the USTA/ITA National Indoor Intercollegiate Championships. The event, which is hosted by Columbia University, pits top college tennis players from around the country against each other in both singles and doubles matches over a four day period.
King had qualified for the singles event by clinching the USTA/ITA Southeast Regional title in Athens on Oct. 24, while the top ranked doubles tandem of King and Spir also qualified for the doubles portion of the Invitational.
King, a local product out of Peachtree City, Ga., won his first match on Thursday 6-3, 3-6, 6-1, against Vasko Mladenov of St. John's University.
On Friday, Nov. 4, he made quick work of Nebraska's Christopher Aumueller, winning the first two sets 6-3, 6-1 to sweep the 31st-ranked player in the nation.
It was his eighth straight victory and improved his record to 14-2 in singles matches on the season.  However, it would prove to be his last victory of the fall season as King lost to seventh-ranked Dennis Nevolo of Illinois in the quarterfinals. King won the first set in a tiebreaker, but Nevolo came back with a rally to take the next two sets 6-3, 6-4, and eliminate King from contention.
Meanwhile, King and Spir also competed in the doubles event.
Heading into the week they had a career record of 34-11 when playing together. This was their second time competing together in this tournament. King and Spir upset top-seeded Duke and reached the semifinals in the 2010 tournament before their run came to an end. This year they were the No. 1 seed and were treated with a bye in the first round.
King and Spir defeated Nathaniel Gery and Winston Lin of Columbia in the second round, 8-4, and advanced to the quarterfinals.  There, they squared off against Florida's Billy Federhofer and Nassim Slilam, and lost a close match 9-7 to end their championship aspirations.