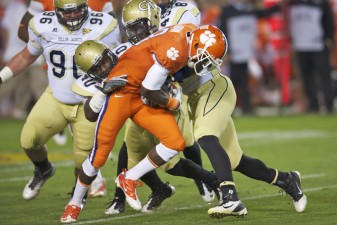 Entering Saturday's game, Tech's defense faced what seemed to be a monumental task. Behind the creative schemes of new offensive coordinator Chad Morris, Clemson's offense had averaged 482.5 yards and 41.9 points per game during their 8-0 start, only scoring fewer than 35 points once in those first eight games. Even with top running back Andre Ellington out, Clemson had a top-10 receiver in freshman Sammy Watkins and a variety of other weapons on hand.
As it turned out, the Jackets were up to the task. The visiting Tigers put up respectable yardage totals for the day, but the Tech defense forced four turnovers to help the team pull ahead and brought pressure effectively, especially late in the game, to secure the victory.
"We knocked the ball loose. We took a little bit of time. We played the way we needed to play," said Head Coach Paul Johnson.
Facing a Clemson offense that relied on spread tactics and used three or four receivers in most formations, the Jackets started the game in a 3-3-5 front to get an extra defensive back on the field. Tech ended up using the 3-3-5 as its base formation for the game, breaking from the usual formation by substituting a third cornerback in place of a second outside linebacker.
For most of the game, redshirt sophomore Jemea Thomas was on the field as that third cornerback. In Tech's first eight games, Thomas had seen playing time as a nickel corner on passing downs and had been effective in that role, recording 28 tackles and four pass breakups.
Given the opportunity to make his first start and play the entire game, Thomas had the best game of his career in terms of both run support and pass coverage, coming through with several key plays at important times in the game.
On the first play of Clemson's second possession in the first quarter, the Tigers called for a screen pass to Watkins. During Clemson's first drive, Tech was caught overpursuing on a similar play and Watkins gained 17 yards. This time, Thomas identified the play and brought Watkins down for a five-yard loss. Early in the second half, Thomas stripped running back Mike Bellamy and Tech junior linebacker Julian Burnett recovered to end a long Clemson drive that had crossed midfield.
In coverage, Thomas made two key interceptions. The second came in the final minutes as he picked off a sideline pass, ending Clemson's final drive. The first was more critical. In the fourth quarter, redshirt junior quarterback Tevin Washington threw an interception, giving Clemson the ball at the Tech nine-yard line with a chance to cut the lead to seven points. On Clemson's first play, though, Thomas intercepted Clemson quarterback Tajh Boyd's pass to Watkins in the end zone, setting Tech up for a nine-minute drive that sealed the game.
"We've got to get [Thomas] on the field because he makes plays. I think tonight was a great example of that," Johnson said.
An indirect advantage of Thomas's strong play was the effect it had on the rest of the secondary. With three able cover corners on the field at any given time, defensive coordinator Al Groh had more freedom to send his defensive backs on blitzes. He took advantage of this often, sending one of his hard-hitting defensive backs—junior cornerback Rod Sweeting, sophomore cornerback Louis Young or sophomore safety Isaiah Johnson—to attack Boyd.
"That's the way we practiced all week," Young said. "[Groh] said we were going to bring the house on [Clemson] to bring pressure and disrupt them."
While Young never managed to sack Boyd, he did record a critical forced fumble in the first quarter, stripping running back D.J. Howard deep in Clemson territory to set up Tech for its first touchdown.
"It was a momentum change and gave us great field position for the offense…I was just trying to knock the ball loose… and from there we just took off," Young said.
Tech typically blitzed its defensive backs as part of larger blitz schemes. As usual, sophomore outside linebacker Jeremiah Attaochu frequently served as an edge rusher; the flexibility of the 3-3-5 and the 2-3-6 allowed him to rush off both edges often, and he was  frequently joined on the blitz by an inside linebacker, junior Julian Burnett or redshirt freshman Quayshawn Nealy, or one of the defensive backs.
Indeed, on 17 of the 41 passing plays that Clemson ran, Tech brought five or more rushers. In some cases, the aggressive approach backfired; in one example from the third quarter, Burnett and Nealy were slow to reach the backfield on an inside cross blitz, and Boyd connected with Watkins for a 48-yard touchdown.
The frequency of Tech's blitzes increased toward the end, with the Jackets bringing pressure from both the 3-3-5 and the 2-3-6 to force Boyd into mistakes. Both of Thomas's interceptions came on blitzes, and in general Boyd's throws were increasingly erratic in the final stages of the game.
Aiding Tech's ability to win at the line of scrimmage was the fact that the Jackets were constantly able to receive strong play from their first and second-string defensive linemen. Ends Jason Peters and Izaan Cross and tackle Logan Walls were the starters, as usual, but the reserves—redshirt sophomore ends Euclid Cummings and Emmanuel Dieke and redshirt junior tackle T.J. Barnes—saw an equal amount of playing time and were just as effective.
When Tech went with a three-man front, Groh was able to mix the two units, and for the most part every combination held up against Clemson's offensive line. The 342-pound Barnes broke through on multiple plays to flush Boyd out of the pocket.
The Jackets will move on to face No. 12 Virginia Tech, which leads the ACC's Coastal Division but has struggled to score in recent games against Boston College and Duke. Where Clemson's main threat was Watkins in the passing game, Virginia Tech relies on the nation's leading rusher, running back David Wilson; as the Jackets have had issues defending the run in recent weeks and did not have to face Clemson's running back, the Nov. 10 game will be a key test to see if the Jackets, who relied on strong play from the secondary on Saturday, can adapt to stop a team that relies on the ground game for success.