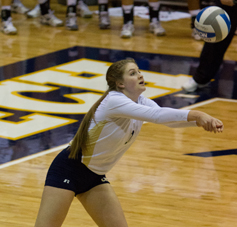 The Jackets split games against Wake Forest and Duke this past weekend. The Jackets swept Wake Forest 3-0 on Friday, Oct. 28, but didn't have the momentum to beat Duke on Oct. 30, losing 3-1. Tech now stands 13-11 on the season and 6-7 in the ACC.
Tech scored on 54 kills by six different players against Wake Forest and held the Demon Deacons to only 40 kills during the match.
The first set was a back and forth shootout between the teams until the Jackets scored five straight to win the set. The second set was another close game, with the lead changing hands multiple times, but Tech came out on top 25-23. Tech scored four straight from a 7-9 deficit to take the lead and held on to win the set 25-20.
Against the Blue Devils, the Jackets scored on 63 kills in four sets, three more than Duke, but were unable to capitalize on the advantage. Duke took an early lead in the first set, but Tech was able to tie the score at 21-21 until a streak of points by the Deacons placed them at set point. Tech was able to interrupt the streak, but was unable to prevent Duke from scoring the last point. The second set was back and forth until the teams were tied 20-20, and the Devils again pulled ahead in the final points of the match.
The Jackets were able to turn around from two set losses to win the third set. Tech took an early lead and dominated the rest of the set. Duke managed to score only 15 points.
The fourth set began in a manner similar to the first two sets. The score was tied 17-17, before the Jackets took a 20-18 lead going into the final stretch. The Devils then began a seven point rally to close out the match, which ended on an attack error by Tech.
Freshman rightside hitter Monique Mead continued her productive season in both games. These games marked the tenth and 11th games of the season in which Mead has scored 20 or more kills. Mead notched 21 against the Deacons and 27 against the Devils.
Sophomore setter Kaleigh Colson registered 41 assists in the game against Wake Forrest and 46 against Duke. Colson has made more than 40 assists in four of the past five games.
Tech will next take on Boston College and Maryland in away games this weekend. The Jackets will play in Boston on Friday, Nov. 4, and in Maryland on Sunday, Nov. 6.