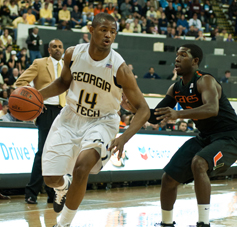 Hello, sports fans and welcome to another edition of Time Out. For this edition, I have decided to give my opinion on something other than how disappointed I am with the Tech football team's second loss of the season. With basketball season right around the corner, it is a perfect time to give you my thoughts on Tech's upcoming basketball season.
For those of you that keep up with college basketball, you may have seen a number of publications that predicted that Tech would finish tenth in the ACC this season.
With only 12 teams in the conference, a tenth place finish would, needless to say, be a rough way for Head Coach Brian Gregory to start his Tech career.
As much as I would love to pick against the experts, they may have this one right, but it has nothing to do with a lack of talent.
A lot of people thought that this would be a tough year for the Jackets when Tech announced that it would renovate Alexander Memorial Coliseum. The Jackets will now be forced to play five of their first six "home" games 27 miles away from campus at the Gwinnett Arena. The team's other home games will be played at the 18,000-seat Philips Arena.
These displacements will definitely be an extra burden on the team this season for a couple of reasons.
First, in the case of Gwinnett, the team will have to make travel arrangements to games that it would normally be able to walk to. In essence, the games will be treated as road games, especially considering that only a handful of regular Tech fans will be there to watch the games. Most of the students will not travel to the games and the alumni in the Atlanta area will not want to drive 30 minutes on a Monday night to see Tech play an opponent like Delaware State.
Second, in the case of Philips, neither the Hawks nor the Dream can sell out at home, so how is a team that went 13-18 last season supposed to sell 18,000 tickets? It will be demoralizing for the players to play in front of an empty stadium where fans could hold conversations from other ends of the stadium.
After learning that they will not be having a home game this season, the Jackets got some more bad news when guards Iman Shumpert and Brian Oliver left the program. Shumpert left Tech for the NBA, but will probably suffer from not playing basketball at all this season. Meanwhile, Oliver chose to leave Tech and transfer to Seton Hall. Add those losses to the loss of guard Moe Miller due to graduation, and you get a recipe for disaster.
Miller, Shumpert and Oliver combined to average 33.6 points per game last season. The other 11 players on the team combined to average 34.2. Replacing these three players will require a rebuilding effort for the Jackets this season, which poses another problem for this year's squad.
The Jackets, as mentioned above, play in the ACC. In case you do not know, the ACC is one of, if not the best, conference in all of college basketball. The league boasts powerhouses like North Carolina and Duke who are ranked No. 1 and 5 in the preseason coaches poll, respectively. Both are on Tech's schedule this season. So is Florida State, which should be a ranked team. It will be hard for the rebuilding Jackets to compete with these teams when these teams get better every season.
In the ACC, you either reload or you implode. UNC and Duke are great at reloading, and Tech, with its one incoming freshman and 11 scholarship players, does not appear to be in the business of reloading.
Along with the problems mentioned above, Tech also will be breaking in a new coach with Gregory. Gregory did not recruit any of the players who are on Tech's roster, so none of the players envisioned playing for Gregory and none of the players were recruited to play in Gregory's system. It remains to be seen if Gregory is the coach that Tech needs, but he cannot be worse than the last one, right?
This year's Tech squad has athletic ability in Glen Rice Jr. and Brandon Reed. It also has size in Nate Hicks and Daniel Miller, who are both over six-foot-ten. I sincerely hope that I am wrong, but it looks to be a long season for the Jackets because of factors that none of these players can control.