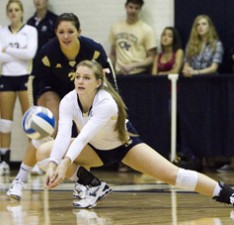 Returning home from a weekend tournament in Houston, Texas, the Tech volleyball team picked up its sixth straight win over Georgia and went on to win two out of three matches in the Georgia Tech Regency Suites Invitational on Sept. 9-10 at O'Keefe Gym. The Jackets swept Georgia and Mercer but lost 3-1 to Samford, closing out the weekend with a 6-3 record on the season.
Facing Georgia on the evening of Friday, Sept. 9 before a sold-out audience, the Jackets looked to extend a winning streak that dated back to 2006. In each of Head Coach Tonya Johnson's first two seasons, the match had gone down to the wire and Tech had pulled out a five-set victory, but this time Tech ended the match with a three-set sweep.
The match was close early on as the teams traded points. Sophomore setter Kaleigh Colson set up senior middle blocker Asia Stawicka well for strong kills on Tech's first two points. With Georgia up 10-8,  Tech went on a five-point run, getting kills from Stawicka and senior outside hitter Bailey Hunter to pull ahead 13-10.
For the remainder of the set, neither team was able to string together more than two points in a row and Tech held onto its lead to the end. Stawicka recorded five kills in the opening set, most on sets from Colson, while the setter herself had 10 assists and recorded the final kill to give Tech a 25-22 first-set victory.
The second set was far easier for Tech, as the Jackets jumped out to a 7-3 lead behind two kills by junior rightside hitter Monique Mead and three Georgia attack errors. Up 12-7, the Jackets went on a 6-0 run behind kills from Stawicka and Mead, two Georgia errors and two Colson service aces. Georgia made a comeback, going on a 10-4 run to pull within striking distance, but the Jackets held a five-point lead even after that and went on to win the set 25-19.
Stawicka powered the Jackets at the start of the final set, picking up two kills and recording two service aces to help put Tech ahead 7-3.
Georgia battled back to cut the lead to one point at 13-12, but Tech got kills from Mead, Colson and sophomore outside hitter Jennifer Percy to expand its lead. Georgia closed to within two points near the end, but a Mead kill on set point gave Tech a 25-22 set win and a match victory.
With the Georgia game out of the way, the Jackets opened Saturday play with an afternoon contest against Mercer. The visiting  Bears kept the final two sets close and pushed them to extra points, but Tech went on to complete the sweep 25-15, 26-24, 28-26.
In the first set, Mercer jumped out to a 3-0 lead before Tech went on a 15-5 run to build a comfortable advantage. Behind six kills from Mead, the Jackets won the set 25-15 to take an early lead.
The second set was more closely contested, as neither team opened up a lead of more than three points. Down 14-13, Tech went on a four-point run fueled by a Percy kill and three Mercer errors, and Tech held onto the lead to reach set point at 24-22; however, Mercer notched back-to-back points to tie the game at 24. The Jackets managed to pull out the set, though, as Colson and junior middle blocker Alexis Woodson landed kills to give Tech a 26-24 victory.
The third and final set proceeded similarly to the previous one. This time, the Jackets found themselves trailing late, as Mercer pulled ahead 24-21 to reach set point. The Jackets rallied back behind a strong finish from Mead, recording four kills in the final eight points of the game as Tech won 28-26 to take the match.
Mead led Tech on the offensive end in the match, recording a game-high 22 kills as Tech hit .283 as a team while holding Mercer to a .171 mark.
Facing Samford in the finale, Tech had a chance to close the weekend out undefeated against an opponent that went 14-17 in 2010, but instead Samford upended the Jackets with a 3-1 victory.
Samford built up a quick lead, but the Jackets fought back to tie the score at 9-9. After that, though, Samford went on a 6-2 run to open up a lead, and Tech was unable to recover as Samford won the opening set 25-20.
Tech got off to a better start in the second set, pulling ahead 11-8, but three Tech attack errors contributed to a six-point Samford run. The Jackets kept the set close, but with the score tied at 23 points apiece, Samford won the next two points on back-to-back kills and took the set 25-23.
Facing a possible sweep, Tech fought back to win the third set 26-24 after Samford reached match point at 24-23. It was not enough, though, as Samford led through the entire fourth set en route to a 25-18 victory that sealed the match and gave Tech its first home loss of the season.
Statistically, Tech was strong both offensively and defensively, but 34 errors contributed to the losing effort.
Tech will go on the road this weekend for a tournament at Clemson, S.C., where they will face Furman and then open ACC play by facing Clemson.