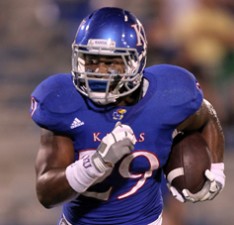 Kansas
The Kansas Jayhawks come into this Saturday's matchup against the Jackets off of a high scoring thriller against Northern Illinois.  Trailing 42 to 38 with 14 seconds to go in the game, sophomore quarterback Jordan Webb completed a six yard touchdown pass to junior wide receiver DJ Beshears on 4th and goal to earn Kansas the victory.  This marks the first time in Head Coach Turner Gill's reign that Kansas has won back-to-back games.  If the Jayhawks want to continue their early season success, they will have to execute the following.
First, the Jayhawks defense will have to step up and prevent the Jackets from making big plays.  The Jayhawks defense currently ranks 96th in FBS for points against and have given up 882 yards of total offense in two games, neither of which was against an automatic qualifying school for the BCS.  They must improve on pressuring the quarterback and disrupting Tech's option attack.  If Kansas does not address its defensive shortcomings, the Jackets' backs and receivers will exploit the one-on-one matchups for big yardage.
Second, the Jayhawks must continue to find success in their running game.  Their rushing attack, led by sophomore running back James Sims, ranks 10th nationally in rushing yards per game with 227.  In two games, Sims has rushed 45 times for 214 yards and three touchdowns, averaging 4.8 yards per carry.  The Jayhawks will also rely on freshman running backs Darrian Miller and Tony Pierson, who have both rushed for over 100 yards and found the end zone this season.
Third, Kansas is counting on junior wide receiver/kick returner D.J. Beshears to have another stellar performance.  Last week against Northern Illinois Bershears had a career game, catching seven passes for 70 yards and two touchdowns, which are all career highs.  He also accumulated 197 yards in kickoff returns, including a 51-yard return that led to his game-winning touchdown catch. If he can elude the Tech defenders and have another breakout performance, Kansas will have a legitimate chance at winning this Saturday's game.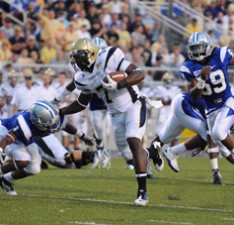 Tech
The Jackets enter their first Saturday home game hoping to avoid a repeat of last year's matchup against Kansas, in which the Jayhawks upset the then-No. 15 Jackets 28-25 in Lawrence, Kan. In blowing out its first two opponents of the season, Tech has frequently demonstrated the big-play capabilities of its offense this season. The Jackets will need to address three points to start the season 3-0.
First, the Jackets will have to pound Kansas's defense with a consistent rushing attack.  Tech currently ranks third in the nation with 340 rushing yards per game.  Six rushers have scored for Tech so far this year, including freshman quarterback Synjyn Days and junior running back Orwin Smith, who each have three touchdowns.  Last week at Middle Tennessee State, the Jackets went on a 98-yard touchdown drive that bled 9:25 off the clock and lasted 17 plays, all of which were rushes.  If they can continue to sustain drives, win the time of possession battle and keep the opposing defense on the field with their running game, their chances of winning will only improve.
Second, Tech must continue to throw the ball effectively. Though Tech is  traditionally a running team, the Jackets' passing game leads the nation in passing efficiency, with junior quarterback Tevin Washington throwing for 473 yards and five touchdowns in two games.  Washington threw two long touchdown passes last week against Middle Tennessee, including a 73-yard completion to freshman A-back Tony Zenon on the first play of the game.
Junior wide receiver Stephen Hill has also played well, amassing 307 yards and three touchdowns on seven catches in two games.  If Washington can connect on another long pass early, it will open up the middle of the field for Tech's running game.
Finally, the Jackets' defense must be prepared for everything the Kansas offense can throw at them.  Kansas, like Tech, has one of the most potent rushing attacks in the nation.  Led by sophomore James Sims, the Kansas running backs will face a defense that has given up 125 rushing yards per game.  The defense will also have its hands full with one of the nation's most efficient passing teams. Kansas quarterback Jordan Webb has the fourth-best QB rating in the country at 209.17.  If they let up a few scores early, this game could turn into a shootout.