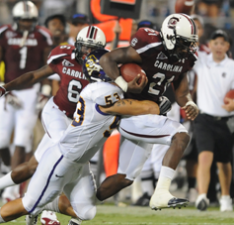 Hello sports fans, and welcome to the second installment of Time Out. I hope you enjoyed my first column about my thoughts on Tech's football team, and some of you will be happy to know that this column has to do with college football as well.
With the football season just under way, it is only fitting that this column tries to tackle the question: Who will win the Heisman Trophy? If you have never heard of the Heisman Trophy then I suggest that you turn back a few pages because Entertainment has a thrilling article on Ludacris.
Now that the readers are exclusively sports fans, I can continue. I am sure a lot of you are like me and have lost sleep at night wondering what player will win the Heisman this year. Well there is good news: I have figured out the answer and it is not what many analysts think.
It seems like every analyst these days is crushing over Stanford quarterback Andrew Luck. What is not to like? He is smart, handsome and has great size. I, on the other hand, actually like what he does on the field including passing for 6804 yards in his career. I will admit that his 3.75 touchdown to interception ratio is impressive, but he will be lucky to win the Heisman (pun intended).
Luck passed on millions of dollars when he decided to return to Stanford for his junior season and based off recent history, that was not the wisest move. Sam Bradford and Matt Leinart thought it was a good idea to return to school in hopes of winning a National Championship. Well, neither one worked out. Bradford got injured, and you might remember Leinart's last game in college as the last time Leinart actually looked like a serviceable quarterback.
To put in bluntly, Luck must have a few screws loose if he thinks that he can avoid the fate of so many others before him.
Another player on the top of almost everyone's list is running back LaMichael James. It shocks me that James is still a Duck, and only a junior. I still remember his freshman season as the main running back next to Akili Smith. Maybe my faulty memory has something to do with how successful James has been in college.
James has rushed for 3331 yards as a Duck and amassed 39 total touchdowns. His numbers are impressive, and he has only been starting for two seasons. The problem with James is his size, as he is generously listed as five-foot-nine and 185 pounds. Although James has been able to avoid the injury bug so far in his career, it is hard for anyone to avoid it for long, especially someone so small.
There is also an issue of James's workload. James has carried the ball 542 times in just over two seasons, so one would think that he might lose some quickness with the more miles he gets. By comparison, Alabama's Trent Richardson only has 270 carries, and is also a favorite by many people to win the Heisman.
That brings me to Mr. Richardson. Richardson will be the focal point of No. 2 Alabama's offense this season after spending two years behind former Heisman winner Mark Ingram.
Richardson was the "explosive" back for Alabama the past two seasons and for good reason. He averaged 6.3 yards per carry as a sophomore and many people thought he was actually better than Ingram. Nick Saban may be smug and a weasel, but he is not stupid. If Richardson were better than Ingram, Richardson would have started.
Richardson will have a big year for the Tide this season, but it will pale in comparison to the 2011 Heisman Winner's numbers — the numbers of Marcus Lattimore.
Lattimore rushed for 1200 yards and 19 touchdowns last year as a true freshman in the SEC. He single handedly led the Gamecocks to the SEC title game last season, and the Roosters are poised to return to the Dome this year with an easier schedule than the previous year.
Steve Spurrier knows that his team should win the SEC East this year, so I will bet you a visor that he will not let quarterback Stephen Garcia mess it up. Spurrier is going to call Lattimore's number early and often this season and expect more games like last week where Lattimore scored three times.
When it is all said and done, Lattimore will join Tim Tebow as the only sophomores to win the Heisman and you just heard the announcement three months early.