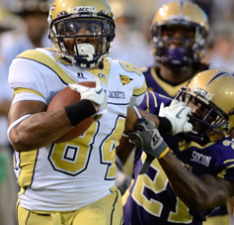 The Jackets are typically known for their ability to control the clock and consistently convert third downs on their way to the endzone. However, to kick off the 2011 season the Jackets came out firing on all cylinders, scoring quickly and leaving the defense out on the field. The Jackets used the huge offensive gains on the way to a 662-yard performance and a 63-21 win over Western Carolina.
It began when redshirt junior quarterback Tevin Washington noticed that the Catamounts had stacked their defenders to stop the run. He also noticed the mismatch in size and speed between the defenders and his receivers. Washington threw a screen out to his favorite target junior wide receiver Stephen Hill, and after a stiff arm by Hill, he remained untouched all the way to the endzone for his 82-yard reception.
"We had a lot of yardage after the catch. They were really committed to stopping the run inside. Those guys out there were on the corners one on one and Western Carolina was overmatched," said Head Coach Paul Johnson.
Opening up the passing game so early in the game allowed Tech's offense to break out for more big plays and forced the defense to be more cautious about defending the pass. This was evidenced by a 77-yard touchdown on a pitch play out to junior A-back Orwin Smith on the drive after the touchdown by Hill.
For the entire game, the Jackets had six scoring drives that were less than two minutes long, with three of those being under one minute. The Jackets' longest drive in the first half was 2:55.
The quick scoring offense was only on the field for 10:29, not a common stat line for Tech. The short drives resulted in the defense being on the field for almost two-thirds of the half, causing the defense to be worn out going into the half.
After gaining a huge lead, the offense slowed down in the second half and gave the defense a breather, showing the clock control offense that is typical of Johnson's option attack.
The Tech offense emphasized working on the passing game throughout the offseason, and it showed against the Catamounts.
The most impressive big play may have come at the end of the third quarter, when Washington threw a deep ball to Hill and hit him in stride for another untouched 77-yard touchdown. It was the Jackets' fourth play longer than 50 yards for the game, and their third that was over 70 yards. The Jackets ended the game with ten total plays that went over 20 yards with the majority coming through the air.
The Jackets proved they were able to move the ball quickly against an FCS opponent, but the real test will come through the rest of the season when the Jackets face more talented defenses in their conference slate.