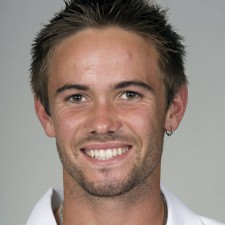 After the departure of former coach Aljosa Piric, Tech announced Conor Pollock as the new assistant coach of the men's tennis team on Aug. 23. Pollock comes into Tech after a successful playing career at Texas A&M, earning All-American honors each of his final three seasons.  After a year of teaching private lessons, Pollock has come back to the college life, making his new home here at Tech.
Pollock has hit the ground running after only being on campus for a few weeks. He has spent the majority of his time getting organized and meeting the players.
"We're still getting to know each other, but I like all the guys here so far. It's tough, but it's good as a coach because you have your work cut out for you, but we have a lot to work with. There's a lot of quality guys who have a lot of talent," Pollock said.
Pollock began his career in 2006 at A&M and immediately took over as one of the leaders of the team. He earned Big 12 Freshman of the Year Honors his first year and was an Intercollegiate Tennis Association All-American his final three seasons. When he graduated in 2009, he had finished his college career with All-Big 12 honors each season and went on to play on the ATP tour for 14 months afterwards. Pollock believes his recent experiences can provide a good angle for coaching, having  been a collegiate player only a few years ago.
"I'm still fairly young, so I can still relate to those guys on that level. Coming off the tour, I played professionally for two years, so I know what it takes to make it out there. I know a lot of qualities and traits you need, and a lot of guys we have on the team aspire to play professional tennis. So the fact that I just came off it will definitely bring up some good advice for those guys," Pollock said.
The tennis team features two seniors and three juniors, but also features three freshmen, which presents some challenges for the new assistant coach. However, with the aid of the upperclassmen on the team, Pollock's guidance is sure to only complement the team's strengths.
"We have [senior] Kevin and Juan Spir and [senior] Dusan who are guys that will be looked to for leadership on the team. Those guys can step up and take leadership or take ownership of the team. It should be a fun year, we'll see what happens," Pollock said.
The tennis team will kick off in late September, and looks to have another successful campaign after a 22-6 season in 2010 and a 12-1 record at home.