Molder, Teixeira among five named to Tech Hall of Fame
Former Tech standouts Bryce Molder, Mark Teixeira, Benjamin Cassaigne, Harvey Middleton and Rodney Williams were all named as the 2011 class of the Georgia Tech Sports Hall of Fame. The former Tech players will be inducted on Nov. 9 along with being honored during Tech's football game against Virginia Tech on Nov. 10.
Molder played for the Jackets' golf team and led two teams to the runner-up position at the NCAA Championship in 1998 and 2001.
Teixeira was a leader on the baseball team between 1999 and 2001 and helped the Jackets host their first NCAA Super Regional in 2000 after winning 50 games and an ACC Championship.
Cassaigne was a standout on the men's tennis team from 1996-99. Cassaigne won 67 matches in his three seasons, and holds the seventh-best single season singles record in Tech history.
Middleton broke Tech's record and became the all-time career leading receiver while leading Tech in receiving from 1995-97. In his career he had 165 receptions while posting 2291 total receving yards.
Williams earned first team All-ACC honors punting for the Tech football time in 1997 and 1998. Williams holds the record for season punting average and punting yards, and earned third team All-American honors in 1997.
Conor Pollock named new assistant men's tennis coach
Former Texas A&M standout Conor Pollock was named the men's tennis assistant coach on Tuesday, Aug. 23. Pollock steps into the position after Aljosa Piric left Tech in June to become head men's tennis coach at Old Dominion.
Pollock earned All-American honors three times in his career at A&M from 2007-09 while earning Big 12 Freshman of the Year honors in 2006. Pollock guided his team to the NCAA Tournament each of his four seasons and will bring some young experience to the coaching staff.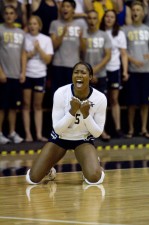 Two volleyball players given preseason All-ACC honors
Senior Bailey Hunter and junior Monique Mead were named as preseason All-ACC volleyball players on Tuesday, Aug. 23. Mead and Hunter finished the 2010 season with All-ACC honors.
Mead is expected to contribute heavily to the 2011 team after leading the 2010 team with 515 kills. Hunter started all 32 games on the 2010 season contributing 366 kills and 86 digs.
The Jackets were also picked to finish the season 5th overall in the ACC's preseason poll behind Duke, Florida State, North Carolina and Miami. Tech kicks off the volleyball season against Kansas State on Friday, Aug. 26 at 7 p.m.