President Trump took to Twitter Sunday night to voice his support for the victorious New England Patriots.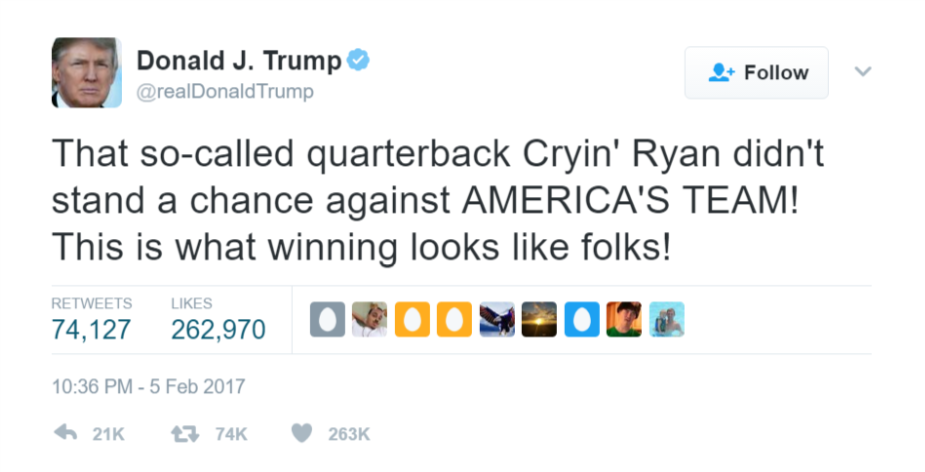 White House Press Secretary Sean Spicer elaborated on Trump's comments, hinting that the president views that Patriots as more than just a football team.
"There is a reason people have referred to the Patriots as 'America's Team' for decades," Spicer said Monday morning. "Their American spirit, their cheating, the gun-wielding minutemen in the end zone; it all promotes the kind of American ideals that this administration represents."
The president's mood, like the flow of the game, fluctuated dramatically during the four hours of play. A series of deleted tweets, saved by Reddit user /u/T0X1CBUTTH0L3, shows the president's frustration at the perceived blowout through the middle of the big game.



These tweets, though confusing at first, make more sense in the context of a photo that also leaked during the game. The photo, depicting Trump holding a golden XBox controller, implies that the president believed he was controlling the action a la Madden NFL.
"It's been a pretty common occurrence," the administration's Chief Strategist Steve Bannon said of the photo. "Every time Donald gets restless, I just give him that controller and tell him he's in charge. I even told him he was playing against John Lewis, really got him riled up. It gives me a chance to focus on my duties as president of the United States."
Once the dust had settled, Trump capped off the series of now-deleted Tweets with a good old-fashioned American roast.