On Aug. 5, 2020, Catalyst Apartments, a new student apartment complex, announced that they would be opening in West Midtown, Atlanta in fall 2021. One year later, hundreds of students have been stranded in hotels and temporary housing with no confirmation of when they will be able to move into their leased apartments in Catalyst Midtown.

According to the Catalyst website, the apartment promises to "set a new standard for your everyday student experience that's unlike anything you have ever seen. Catalyst in Atlanta, Georgia will offer world-class student living that's truly in a league of its own." With multiple move-in delays, little if any communication from Catalyst employees and unfinished construction, the student housing complex certainly set new standards that most have never experienced before.

"At the time, Catalyst had the best deals in comparison to all the other student apartments around like Inspire. That's really why I picked Catalyst," said Caleb Page, fourth-year ME. Page first learned about Catalyst while researching different apartment options near campus and after realizing that the complex would be both in proximity to his friends and within his price range, he decided to seal the deal and apply for an apartment online.

With an original move-in date of Aug. 15, students from schools all over Atlanta including Georgia Tech, Georgia State, Spelman, Morehouse and Clark Atlanta were expecting to move in prior to their first day of class. At the same time Catalyst Apartments announced its development, two other student apartment complexes, Inspire Atlanta and Here Atlanta, also announced that they would be opening in Fall 2021 in Midtown near Tech's campus. Both Inspire Atlanta and Here Atlanta completed construction on time, and residents were able to move in as planned with time to settle in before classes began.

However, on Aug. 11, days before the set move-in, Catalyst sent an email to residents informing them that "… unfortunately, due to unforeseen circumstances related to completion and final safety inspection of the elevator, we will need to delay your move-in at Catalyst until at least August 26th."

"When I got that email, I was a nervous wreck," said Mishi Banerjee, a recent alumna of Nicholls State University who moved to Atlanta to be closer to her sister while she took a gap year before graduate school. "I was trying to pack up my whole life in Louisiana into my little SUV … I had planned for a month to be moving into this place, so I just had a complete nervous breakdown."

Catalyst offered two different options for accommodations: if residents were able to delay their move to Atlanta or not require alternative housing, they would receive a credit of $50 per day on their account for each night they chose not to stay in a hotel. Alternatively, if residents were unable to delay their move to Atlanta and required housing, Catalyst would pay for hotel costs including room, tax and parking if it was included in their lease, but they would not receive the $50 credit.

Angelik Laboy Torres, fourth-year CS and film studies minor, is from Puerto Rico and had no family near Atlanta to stay with, but fortunately, a friend near Emory offered to house her and she opted to receive the $50 per day credit.

"It's really nice of my friend to drive me every single day to school because it's pretty far," Torres said. "But at the same time, I shouldn't be this burden on her and I should just have my own place… I can't just go back to my apartment and feel comfortable after I finish a class." Others like Banerjee, who had already enrolled in cosmetology classes, had no choice but to continue her drive to Atlanta and request a hotel.

"I'm lucky I'm not in college anymore, but [Catalyst's] doings have really disrupted plans I had like applying to graduate school," Banerjee said.

At first, residents like Banerjee and Page were patient and understanding of the delay, believing that Catalyst was trying to prioritize their safety by pushing move-in by a few days.

Yet, as residents waited in an awkward limbo to move into their new homes, Catalyst sent out another email to residents on floors one to three in Building 100 on Aug. 24, stating "It is our expectation that move-in will be on Saturday, August 28th. Many residents have requested a weekend move-in to work around class schedules," implying that the move-in was pushed due to the request of students and not other factors like inspection or construction delays.

The email also informed residents that although they will be able to move in, elevators would not be in service and amenities would not be available. Residents on floors four to five were notified that there is no set date for them to move in yet because of a missing certificate of occupancy for those upper levels.

Residents had already paid a full month's rent for August at this point, which Catalyst required to be paid despite the delayed move-in date, and there seemed to be no sign of a refund insight. With the entire month of August almost over, people became more anxious about whether they would actually be allowed to move in.

"A lot of us have just walked by the apartment and we know that it's not just [the inspection]," Banerjee said. "It seems like they plan on moving us in when it's still under construction, which I don't like because that's a safety hazard." On Aug. 27, one day before the new move-in date, residents of floors 1-3 in Building 1000 received yet another email from Catalyst informing them that they would not be allowed to move in until Sept. 1 due to "unforeseen construction final construction issues" and the city inspection approval process. Building 2000 residents were also notified that their building had received a certificate of occupancy and they would be permitted to move in on Sept. 1.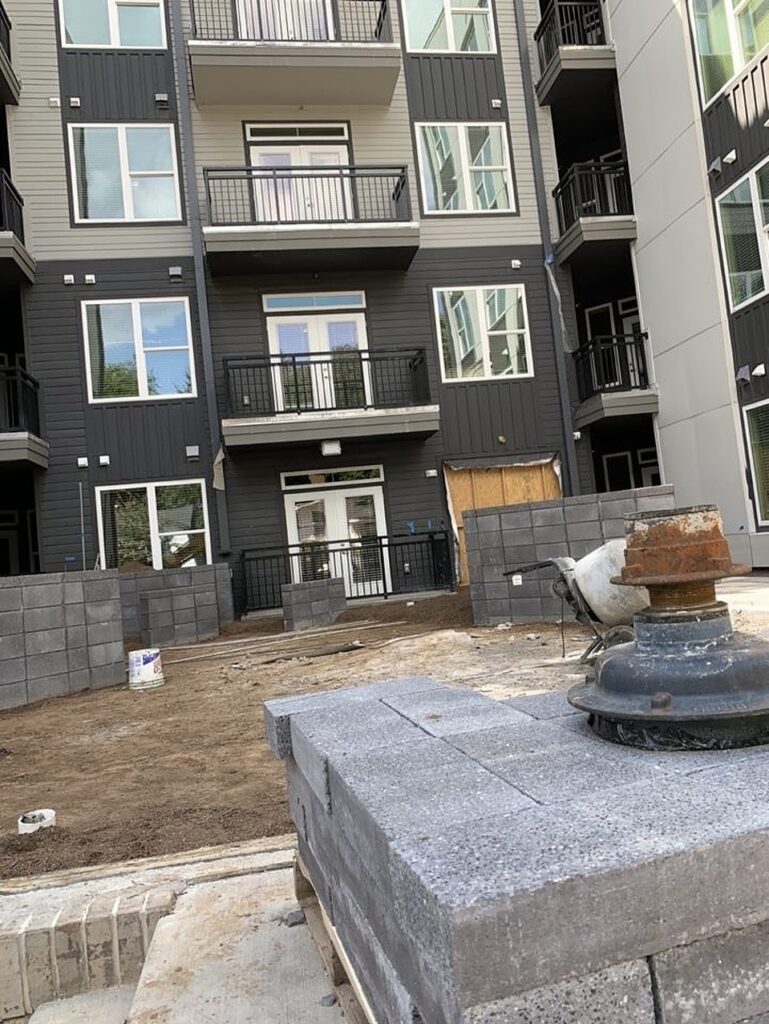 Residents of floors four and five received no further information at the time, and all residents of Catalyst were still required to pay rent in full for the month of September before moving in.

"They need to communicate better. They can't just say something and then disappear. Being in limbo about somewhere you're supposed to live is so hard. We're living in hotels but it feels like we're homeless," said Banerjee, who was assigned to an higher floor of Building 1000.

When the Technique reached out for a comment, Catalyst did not respond. Additionally, the number on the complex's website would not connect, and multiple residents have reached out to leasing officers and employees only to receive silence.

Families and friends alongside residents themselves have turned to social media and writing online reviews in an attempt to get a response from the complex, many leaving one-star reviews online. One Google review by Dajanae Mckinney read, "If we were able to give 0 star reviews I'd make 10000 different google accounts to do just that."

Frustrated by the lack of communication and never-ending delays, the students of Catalyst also formed a GroupMe to connect with each other amongst the shared confusion.

Photo courtesy Ikey Ugwumadu
As of Sept. 2, the group chat contained 336 members voicing their concerns over the management and progression of the building so far.

On Sept. 1, residents of Building 2000 were able to move in, but floors one through three of Building 1000 were once again delayed to Sep. 2. Those who did move in shared pictures in the chat of the building and complained of leaky sprinklers in the ceilings, unfinished elevators and uncleaned apartment units while others still await communication on when they can finally move in.

"It's been absolutely ridiculous," Banerjee said. "When you think of student housing, you think the priority is the actual students who are in school."