Details surrounding the recent disciplinary sanctions to the Alpha Tau Omega fraternity (ATΩ) were released earlier last week.
ATΩ, which was placed on disciplinary probation toward the end of January 2013, was being investigated by the Office of Student Integrity (OSI) and the national chapter of the fraternity for a drug-related charge and other charges against an alleged illegal operation of a basement "pledge bar".
In addition to disciplinary probation, which restricts the fraternity from all social events but still allows the organization to participate in rush, OSI mandated the fraternity to participate in alcohol and drug workshops and reevaluate the pledge education program.
"it was understood/word of mouth that no one actually needed to pay for the drinks…"
According to the OSI's investigation report, the first allegation was brought to the fraternity when an undercover GTPD officer discovered the pledge bar on numerous occasions during Summer 2012 and Fall 2012.
This was in violation with Interfraternity Council (IFC) policy, which states that bars may only be based on a ticketing system, where of-age brothers or members invited to the event that the house is hosting may check in their alcohol, be given tickets and request their own alcohol when they wish.
According to statements made from individuals interviewed by OSI, whose names were redacted from the report for legal reasons, the pledge bar, which was operated primarily by pledges, was a project used to raise money for other ATΩ projects.
The operation of the bar, according to individuals speaking on behalf of ATΩ in the report, was similar to the ticketing system. On game days, when the bar was operational, older brothers would check in their alcohol at the bar and alumni could order this alcohol at the bar. According to the same individuals, payment for the alcohol was not necessary, but tipping the bartenders was encouraged.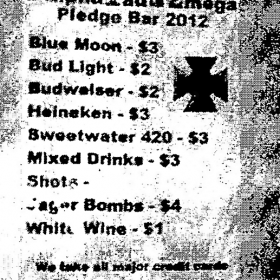 Although the report showed the photo of a pledge bar sign listing out prices for the various drinks, as well as text reading "We accept all major credit cards/Tips are appreciated", one interviewee in the report said that "it was understood/word of mouth that no one actually needed to pay for the drinks…"
Despite the fact that the bar had been a tradition for over 30 years and was testified by members that it was run off of a tipping system, the report concluded otherwise.
"The fraternity took responsibility for this bar and despite numerous suggestions that the amounts listed on the poster were 'suggested donations', it is more likely than not that a fully-functioning bar was run…It is more likely than not that the fraternity violated law and institute policy by running this bar," the report said.
"Everyone needs to make sure they understand the policies with everything," said Jonathan Radivoj, President of the Tech chapter of ATΩ. "It's been done for so long probably in so many places that you don't even realize that what's going on is wrong."
Drug Abuse Allegations
The second allegation against the fraternity involved the knowledge of the sale of illegal drugs.
According to one interviewee's statements, "there is drug activity within the ATO house." Further statements were made in the OSI report, including one about "[making] cookies and brownies out of marijuana…[and] pledges also often required to drive fraternity members off-campus for parties where drug and alcohol was present." He went on to state that he confirmed he had knowledge that one person had purchased a half-pound of marijuana at a time for consumption and sales. The same member, on a different note, also said that pledges were required to participate in drinking games.
An email from the ATΩ list-serve, provided in this report, also suggested the selling of marijuana in the house.
"Guys, stop selling in the …house. You can get our charter taken and get us kicked off campus…," the email said.
…one person had purchased a half-pound of marijuana at a time for consumption and sales…
The interviewees in the report speaking on behalf of ATΩ also testified, citing that "if students were found doing drugs, they would be expelled from the fraternity permanently and that at chapter meetings, this was enforced verbally."
The individuals went on further to describe the two drug-related incidents that occurred earlier this semester, where a first-year pledge and another upper-class student were arrested on separate accounts for drug sales.
According to fourth-year ME major John Thomas Shellnut, a member of the ATΩ fraternity, the upper-class student had been suspended from the organization prior to his arrest. The report, however, mentions that this student's status was not notified to the chapter advisor, Greek Affairs or ATΩ national, as leaders felt that "they could handle the concerns and it did not seem out of control."
The report also mentioned the presence of a separate "smoking room", the presence of which was confirmed by the report, which included an email on the ATΩ list-serve inviting others to smoke in the room. ATΩ leadership, in the report, expressed concern about drug use in a storage unit near the house, but that there was no way to know what was going on there.
"…Based on our investigation, it is understood that [smoking] room is known by fraternity members to be regularly used for smoking marijuana. It is more than likely than not that by not regulating what occurred in this fraternity space, the fraternity acted with others to perform unlawful acts," the report concluded.
Moving Forward
According to Radivoj, ATΩ aims to move past this recent incident.
"We are using this internally [in the] IFC, reevaluating our techniques on interacting with chapters…"
"I guess, with this whole thing, overall, it is bad obviously, but our fraternity is not looking back on this anymore," Radivoj said. "We're going through a bunch of stuff as a fraternity and just looking forward to this coming fall, new fall rush class as well as our 125th anniversary."
IFC President Mason Elledge acknowledged the presence of this sort of behavior elsewhere on campus.
"We don't want to use ATΩ as a scapegoat at all. We are using this internally…, reevaluating our techniques on interacting with chapters to see whether programs we've had in the past…have been effective…or gaps in our policies that need to be filled," Elledge said.