The project to create a unified database for all courses offered on campus is moving closer to completion. According to the Registrar, Reta Pikowsky, whose office developed the website, the database should be ready to be made public sometime toward the end of spring semester. The completed website will allow students to access an up-to-date syllabus for every class currently taught by each department.
"Some of the schools had already done a really good job locally, like chemistry, collecting them all," said Lawrence Bottomley, Chair of the Institute Undergraduate Curriculum Committee's subcommittee on General Education. "So it was very easy to get them uploaded. Usually the schools have to have them for ABET accreditation, to have all the documentation in place."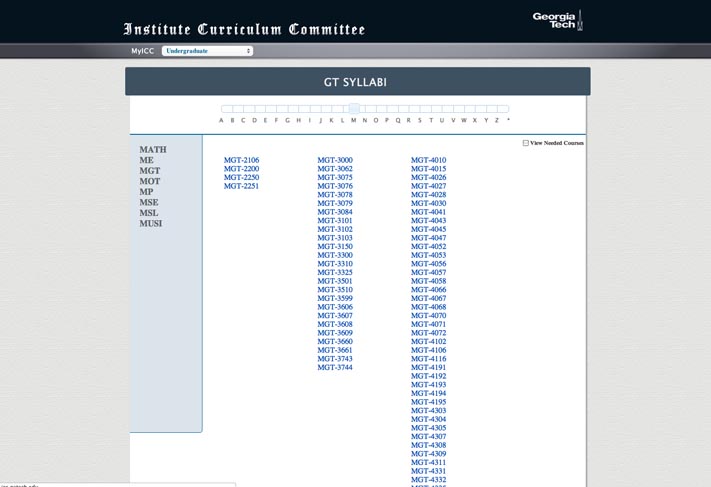 In developing the database, the Registrar's office and Curriculum Committee must not only collect existing syllabi, but also reviewing their content.
"We're looking at them; we're not just collecting them," said Pikowsky. "We're actually looking at them to say what does it tell us; do we see learning outcomes, do we see things we would expect to see…Some of them are very good and some of them are not very good."
Pikowsky said that the database will be organized by course number, with one syllabus for each course.
"We're collecting syllabi for courses, not necessarily by professor," said Pikowsky. "We anticipate that the core of it will be the same regardless of who's teaching it."
Pikowsky expressed her office's commitment to completing this project.
"We're excited about this, we think it's important, so we will continue our efforts," Pikowsky said. "We're really on it. And we're committed to it."
Although the Curriculum Committee has been working on this project for over a year, a parallel proposal through SGA was also in the pipeline. Spark 2012, the campaign of now-SGA president Eran Mordel, proposed a syllabus database "for students to browse the syllabi of their prospective professors/classes to better serve both parties' interests, desires, and education."
The project was also under consideration by the SGA IT Committee.
"There was a little bit of a miscommunication, in that in the initial phases of this, both parties of the administration and the Student Government Association were both interested in this and there was a little bit of a miscommunication as to who was actually going to tackle the effort," said Joseph Mattingly, Chairman of the IT Committee.
SGA eventually decided to drop the project and allow the registrar to develop the database.