[media-credit id=235 align="aligncenter" width="342″]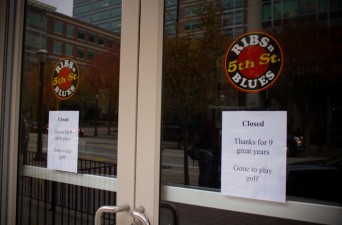 [/media-credit]"It was never the most popular item on the street. Especially over the last 12 months, the sales have just been continually declining," said Rich Steele, the Senior Director of Auxiliary Services.
According to Steele, sales began declining after only their second year in business because of a fire in the exhaust hood which caused the restaurant to close down for a couple of months. The close resulted in a decrease in sales amounting to approximately 50 percent of what they were before the fire, and the restaurant struggled to improve business from that point again.
"The operator wasn't extremely motivated to try to get out there and make change. They were not investing time or energy in marketing and they were not changing up their product mix to meet the changing needs of the population." Steele said.
Student opinions have been mixed on the subject of Ribs n Blues closing down, as some students had little idea that the business had recently shut down operation. Some claimed it to be expected, while others were still sad to see it go.
"I thought it was really sad, but I don't think the price points and quality of food really matched up. So I definitely see why they could have closed down," said fourth-year BA major Amy Lee.
"I didn't even know they had shut down, but I'm not surprised because there's so much competition around here . I didn't think it was that popular of a place anyway," said second-year BA major Blaire Parlo.
"[Ribs n Blues shutting down] was pretty sad. I liked the food but it was a little bit more expensive than it needed to be.  I liked the people that worked there, they were always really nice and it is always sad to see a smaller business move out like that," said fourth-year BA major Lee Washington.
The owner of Ribs n Blues could not be reached for comments.
With the way business had been going, from the standpoint of Auxiliary services, the restaurant was bound to close. The question was simply when a shut down would occur. Though no preventative measures were taken to keep Ribs n Blues open, the look now is toward the future, and what new retail opportunity may move into this location.
"We're looking at a non-restaurant operation," Steele said, although he did elaborate that there are no specific plans yet. The conversation is just getting started and it is very early in the planning stages of bringing in a new business at the location.
On the student side, there is not a general consensus as to what they would like to see move into the location in Tech Square because of the variety of options already offered.
"I feel like we don't need another restaurant, because there's so much competition. It's hard to introduce something and have people like it for a continued period of time," said fourth-year BA student Puja Dullabh.
Auxiliary Services consults with organizations when bringing new retail to campus.
The Auxiliary Services Dining and Retail Services Advisory council, as well as the Student Government Association, work together to determine what kinds of food or retail options are needs that should be brought to campus.
With years of data available and gathered from working with these various organizations and annual student surveys, the focus is continually on answering the questions as to what students want to see. Other items include whether anyone wants to move into open space on campus, and whether the financial aspects of proposed business plans work out.
"We certainly take the interest that students have expressed, and then we go out and try to see if there's someone who's willing to do it, and from there go to negotiate a contract," Steele said.
Though some were sad to see it go, others described the closing as expected because Ribs n Blues has been on the decline for a considerable amount of time.  But Auxiliary Services continues to search for ways to find out what the campus community is looking for and deliver to those notions.
"Our goal is to fill the space as soon as possible, we don't want to have a vacant space," said Steele speaking on Auxiliary Services, "We work as far in advance as we can, and literally started talking about what our next operation in Tech Square would be probably in January or February of this year. So when something happens or someone closes unexpectedly like this, we want to be ready for that next operation."