[media-credit id=9 align="aligncenter" width="741″]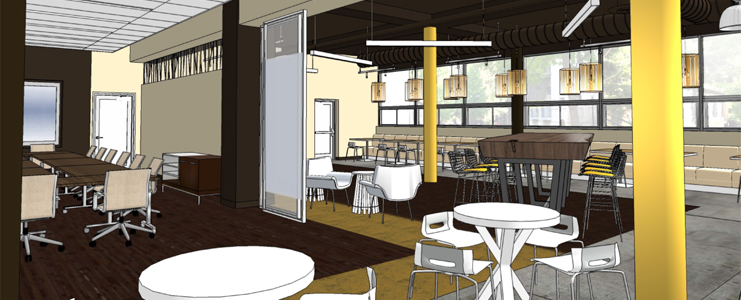 [/media-credit]The collective sweet tooth of students and faculty alike is full of anticipation for the expected opening of Atlanta's Highland Bakery on campus, in what was formerly Junior's Grill near Tech Tower. Junior's was a traditional student hotspot until 2011, when it's proprietor decided, after 37 years of running the diner, that it was time to retire.
Construction to transform the space officially began this week, and the project aims to be completed towards the end of January 2013.
"After we do the finishing touches, we're looking [to open] around spring break…but with construction, you just never know", said Highland Bakery founder Stacey Eames.
Tech administration took careful consideration in choosing the restaurant to fill the Junior's location, taking the time this summer to go to potential locations to sample the quality of the food that would be served.
"Highland Bakery has a very strong reputation here in Atlanta," said Rich Steele, Tech's Senior Director of Auxiliary Services. "We knew that we didn't want a national brand in that location…We wanted something that had more of the unique Georgia Tech look and feel…and we thought that [Highland Bakery] would provide that."
Highland Bakery would cater heavily to administrators, faculty and visitors to campus due it's location and unique food options, compared to the fast food styles in the Student Center.
"I'm really excited for Highland Bakery is coming…the area around Cherry Street is so perfect for it and I will be glad to have a reason to go over there. And I always love a good bakery treat.", said Katie Turner, a second-year CoA major.
"[Stacey's] menu will attract students, but I think that the menu is more geared to administrators, faculty and staff, so we thought that would be the best spot for it," Steele said.
Highland's sandwiches, coffee, and pastries can already be found in coffee kiosks in the College of Architecture and the College of Computing. However, the new location will be a full restaurant, offering most, if not all of the current Highland Bakery menu.
Both Steele and Eames hope that the establishment of a centralized Highland location on campus will help the preexisting Highland kiosks on campus.
"If Highland Bakery could have an anchor restaurant with broader production capacity right here on campus, then these satellite locations could serve, potentially, more diverse foods and fresher foods," Steele said.
"It will allow for better and fresher service. We won't have to ship as much from our Highland Avenue location," Eames said.
A conference room will also be included in the 4,000 square foot space, creating a space for faculty to work over lunch. Steele and other staff has been working with the architect over the project to help ensure that the redesign creates a space welcoming to both faculty and student alike, which resulted in a longer design process.
"We decided to sacrifice time a little bit, in order to work on the scope and the budget… so we could provide everything we need for a good restaurant," Steele said.
The renovation will also involve some basic updating to get the space back up to standards, with work on the electrical and heating and cooling systems already scheduled.
Tech's campus has enjoyed Eames's baked goods since the late 1990's, even before the existence of the original Highland Bakery on Highland Avenue, with the kiosk in the College of Computing and the Galloway Cafe in the Architecture Atrium, named after the college's former Dean Tom Galloway, who pushed for Highland Bakery's initial presence on campus. The first full Highland Bakery opened in 2004 on Highland Avenue, and has since expanded to locations in Midtown and Buckhead.
"I have such a dedication to the campus, and I want to be able to showcase more of what we do on campus, and bring that offering of what we are and what we're about to Georgia Tech," Eames said.