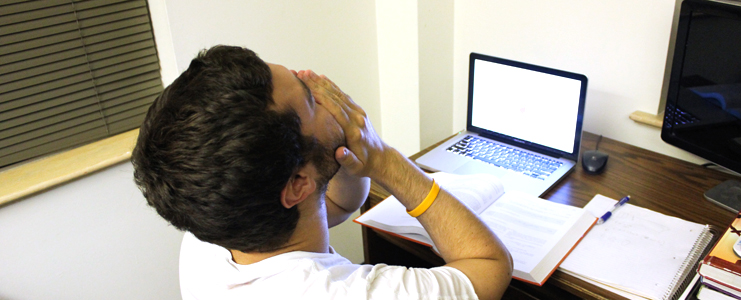 Since the current semester began, murmurs of wireless internet issues in residential and academic buildings have surfaced around Tech's campus. In response, the Office of Information Technology (OIT) and ResNET have been working to alleviate these issues by encouraging LAWN users to provide diagnostic information through a new online medium.
Students can find OIT's debug tool at lawn.gatech.edu/debug/ and, by filling out a short form, can efficiently submit information to OIT to be analyzed.
"We have been hearing about issues all across campus about random drops in the internet or Wi-Fi speeds being low…Now sharing it with the administration, they have developed their ow
n tool that will be coming out," said SGA Vice President of Campus Affairs Nicholas Picon.
"The diagnostic information from our network management platforms tells us about the device on LAWN which is visiting the page," said Matt Sanders, OIT Senior Research Scientist and Campus Mobility Services Manager. "We look forward to working with LAWN users to identify and resolve issues that are impacting the quality of the overall service."
There are multiple ideas as to why users may be experiencing wireless internet problems depending on where the services are trying to be accessed. In residential areas, ResNET is in the final stages of upgrading their wireless access points. Some buildings are still using older technology and do not yet offer the faster 802.11n speeds of the upgraded versions.
"It's a pretty long process involving surveying a building among other things, so we have been doing that for the past year. If folks are in a building that does not have the upgraded infrastructure, then they are going to have worse performance than someone who is inside of a building that has been updated," Sanders said.
Additionally, the demand has increased significantly in the residence halls with students bringing more devices with Wi-Fi capabilities each academic year. During peak times, students may experience slowdown during high-bandwidth activities as a result of wireless access points having to support a high volume of users.
In academic buildings, the access points generally have higher traffic; because a limited number of access points that can be included in the given space, it is possible to overload them. In some cases, user complaints to OIT have helped to find and diagnose the issues seen around campus.
"User reports have helped us find a few radios in academic buildings that need to be reconfigured or replaced. When we get good feedback from folks, we are able to respond to that and deal with the problems," Sanders said.
Tech's original wireless network, GTWireless, was initially set up in 1999. It was retired July 2012 and replaced with a new network, GTother. The transition from GTWireless to GTother took place due to outdated wireless security protocols and the inability of GTWireless to provide faster 802.11n data rates.
The elimination of GTWireless in favor of GTother has caused the small chunk of users using the old services to transition to the improved services of GTwpa.
According to Sanders, one belief of students on campus was that GTWireless had superior performance to GTwpa.
However, the need to reconfigure Wi-Fi settings to change networks has caused OIT to see a decrease from 10 percent of devices using GTWireless to approximately three percent using GTother.
"GTwpa users are entirely on a hardware-based networking platform, whereas GTother or GTWireless users before that were on a software firewall and router," Sanders said. "The performance of that was good and served us well for many years, but in terms of stability and our ability to scale, it made a lot of sense for us to switch."
While the anecdotes of poor Wi-Fi performance have been prominent among the students, it is rare that the complaints are reported directly to OIT in a resourceful manner. The new debug tool on LAWN's website should provide an easier medium for users to provide OIT with detailed information regarding any performance issues.
"Over the course of a week, approximately 22,000 unique users are on LAWN. Just because our systems say that everything is fine with the wireless infrastructure…that does not mean that things are fine for every user's experience," Sanders said. "The only way OIT knows that is if people contact us."