[media-credit name="Jon Drews" align="aligncenter" width="711″]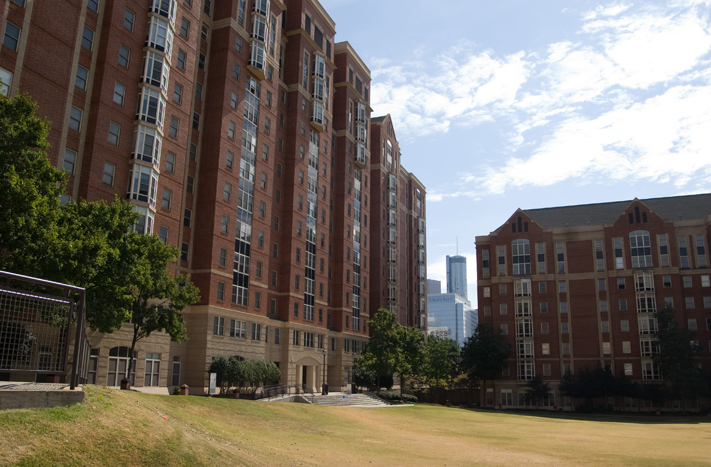 [/media-credit]According to Richard Kane, the Area Manager for North Avenue Apartments North and East Buildings, the incident caused between four and six inches of water to cascade through the hallways of the first floor of the building on Monday, Sept. 17, around 1 p.m.
"It was a real mess that went throughout the whole first floor. Several students' apartments were severely affected as well as the hall director's office. There was a meeting room in there that was flooded out and our laundry facility was taken offline for a few days as well," Kane said.
With the flooding, the entire first floor was shut down and inaccessible to residents, although emergency maintenance crews as well as an outside contractor, North Ridge Restoration, were all contacted immediately to assess damage, handle water extraction and replace damaged flooring and drywall.
"The contractors were working around the clock to get us squared away," Kane said.
Another problem resulted from this contractor work: multiple fire alarms affected most residents, and caused evacuation of the building multiple times at various hours of the day.
"The [contractors] had a lot of high energy blowers and because those were blowing warm air, the temperature [rose]…and therefore actually tripped the fire alarms several times," Kane said.
While most residents were also affected by the laundry facility having to be closed down, they were given access to the facilities in the North and South building.
Residents most negatively affected though were those living in the three apartments on the first floor.
"Twelve students total were [directly] affected by it…During the flood itself, we were trying to talk to students," Kane said.
He went on to explain the process housing took in helping those students directly.
"We asked a couple of questions, the first being 'Do you need a place to stay or do you have a place you can go?'" Kane said. "We tried to work in that capacity to really find them a place. Several were able to relocate to Crecine Apartments; one actually stayed with friends on another floor of the same building because it only affected the first floor; and a couple others went home because they lived fairly close."
Students that were affected on the first floor asked about compensation for property damages.
"I would point anybody to the housing contract that every student signs, [in which] there is a clause that states that GT really encourages students to get renters insurance, if not, then to make sure they're on their parents homeowners insurance," Kane said.
The clause referred to by Kane in the student-housing contract states that the "Georgia Institute of Technology, its officers, employees or agents are not responsible for the loss, damage or destruction of the Student's personal property."
Students are also strongly encouraged to purchase and maintain appropriate rental insurance, or confirm that their family homeowner's policy will cover such possible losses in this clause. If insurance coverage is desired, it is the resident's responsibility to acquire such coverage and Tech housing holds no liability.
Residents on the first floor were allowed to move back into the building the Friday of that same week while most restoration and reconstruction was being finished up completely through that weekend.
"In terms of a maintenance issue, it could happen anywhere at anytime which is why there are emergency maintenance people on call," Kane said.
With this recent incident, the Department of Housing is making it a priority to handle these situations better due to the number of complaints received and to make sure that people have more consistent and correct information on all levels.
"We want to serve students to the best of our ability and I think that the nature of the incident didn't allow us to do that as well as we could have or should have," Kane said. "In the future with better protocol in place, we hope to serve the students better in that capacity."
Kane, however, did acknowledge some positive feedback from students.
"We know that some [students] were very dissatisfied with it, but some were also as satisfied as they could be with the response and getting things taken care of as quickly as possible," Kane said. "It's never going to be a good situation…but our job is to alleviate as much of that as possible, and if we didn't do it right the first time to make sure we do it better the next time."