[media-credit name="Sho Kitamura" align="aligncenter" width="711″]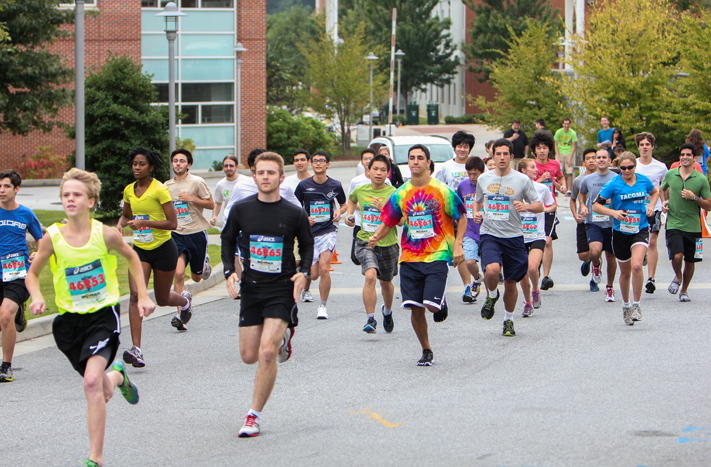 [/media-credit]At 9 a.m. on Sunday, Sept. 30, most of Tech's campus was still sleeping. However, the area around the Klaus Advanced Computing Building was abuzz with WREK Radio blasting music and a small crowd of people wearing athletic clothes ready to participate in the annual Econ Club 5K.
The course went through Tech's campus, both starting and finishing at Klaus.
Jason Miller, a fourth-year ECON major and Econ Club Events Coordinator, was descriptive about the work needed to successfully organize a 5K in a large metropolitan area like Atlanta.
Miller said that pulling off a smooth 5K race in a metropolitan area required a fairly large amount of work by himself and others, citing traffic management as a major problem involved in routing a race through campus.
Miller went on to explain that the club arranges for GTPD officers to block off the major intersections, and that the club stations volunteers at smaller intersections.
According to club Vice President Mark Solarski, the 5K serves mainly as a fundraiser for the club's other year-round activities.
Miller echoed this view, stating that he wasn't sure what the club's initial inspiration for putting on a 5K was, but that today it helps support other club activities — which Miller states pose the major draw to the club for him.
Events such as these are able to sustain the club's budget, which helps the club accomplish many different things.
In particular, Miller emphasized opportunities for interaction with professionals and experts as a benefit of involvement in Econ Club.
"Once a month we meet with a professional type person. I think we're meeting a senator next month.  It doesn't have to [deal] with professional economics," Miller said.
Club Treasurer Anna Hunter shared Miller's view of interpersonal connections that help form the most important part of the club experience.
"[It's] a good way to network and explore different fields," Hunter said.
While the annual 5K may not be a core part of the club's mission, it does pose an opportunity for community members to enjoy friendly competition and support the club's endeavors.