[media-credit id=9 align="aligncenter" width="741″]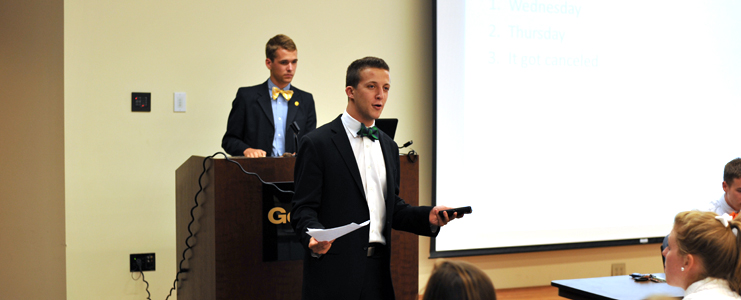 [/media-credit]In a conference call among 17 members of the Student Advisory Council (SAC)—a group of Student Government representatives from 35 colleges and universities in the University System of Georgia (USG)—on Friday, Sept. 14, Undergraduate Student Body President Eran Mordel made an initial vote of "Yes" on behalf of Tech in "support of Casino Gambling for the purposes of supporting Higher Education, specifically the [Helping Outstanding Pupils Educationally (HOPE)] scholarship," according to meeting notes released by Graduate Student Body President Michael Kirka.
The schools represented in this initial vote spanned across four-year and two-year public institutions. A resolution by the SAC is currently in a draft process, according to Mordel, leaving the opportunity to reverse Tech's vote.
"We are one of the two big flagship universities, [so] we have a lot of pull in the state," Mordel said in reference to Tech and UGA, which also initially voted yes in this issue.
Mordel said that this vote was in support of new revenue sources for HOPE in general, but that casino gambling is among the most promising suggested solutions to a system that has been strained by rising enrollment rates and tuition.
"I am in support of revenue sources for HOPE, but unfortunately, there hasn't been anything promising from the state from the public or private sector for HOPE," Mordel said.
A point of contention that arose was that Mordel cast his initial vote, even though the issue was never discussed in the Undergraduate House of Representatives (UHR) and the Graduate Student Senate (GSS).
"While I fully acknowledge that the President is elected to serve as the voice of the undergraduate student body… I am shocked that, on such an important issue, the Representatives were not consulted, given that their very existence is to 'represent' the myriad of groups across campus," wrote Speaker of the House Mike Mosgrove in an email.
"It's almost an unwritten policy and a tradition for Presidents to communicate with the legislative bodies," Kirka said, citing the legislative debate around the concealed carry issue around which the Presidents formed their opinion.
Mordel said that he has been asking for input on HOPE and casino gambling from UHR and that perhaps Tech could draft a resolution through the legislative bodies. Mordel did not want to flood UHR with political information, considering other current civic engagement initiatives like the "Wreck the Vote" campaign.
SGA Vice President of Finance Danny Farmer said that, because Mordel is speaking as the voice of the student body and would be signing off on an official resolution, the issue should have had discussion in the UHR and GSS.
Farmer said that Tech should not recommend any specific way to fund HOPE, but instead should generally support increasing funding for HOPE without taking any options off the table.
Tech's Executive Director of Government and Community Relations Dene Sheheane supports the students' ability to make informed political decisions independently of the administration.
"The Institute fosters relationships with government officials on a regular basis," Sheheane wrote in an email. "We encourage [our students] to do their research on issues and make their own determination on whether to engage in the political process."
Former Georgia governor Zell Miller created the Helping Outstanding Pupils Educationally (HOPE) scholarship program in 1993 as a merit-based higher education scholarship for Georgia taxpayers, funded by revenue from the Georgia Lottery.
When the program started in 1993, the Georgia Student Finance Commission (GSFC) awarded $21.4 million in HOPE scholarships to nearly 43,000 students. In the 2011-12 school year, the program provided $461.9 million for over 200,000 students.