[media-credit id=15 align="aligncenter" width="555″]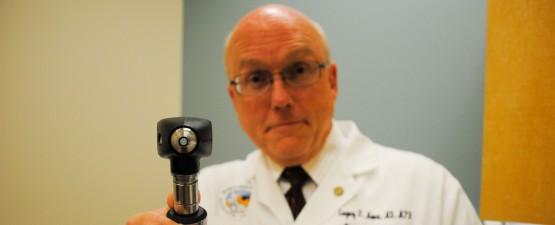 [/media-credit]Since moving into their location inside Stamps Health Services and opening their doors in May, Tech Dentistry has made dental services more accessible and convenient for the campus community.  Though it is not a Tech entity, Tech Dentistry is the first full-service independent dental provider of its kind on campus.
"We offer all traditional dental procedures like routine and deep cleanings, crowns, dentures and we specialize in specialty areas such as oral surgery, endodontics, sedation dentistry and orthodontics," said Dr. Frank Nia, the leading dentist at Tech Dentistry.
What separates Tech Dentistry from the previous dental practice Tech offered is the in-house business it conducts—customers receive all their oral care on site here.
"It's a well respected practice… both of their other clinics are state of the art and very attractive, clean, modern. And so we decided they would probably be the best choice in terms of providing for students," said Dr. Gregory Moore, the director of Health Services.
"We expected a positive response from the Georgia Tech patient pool which we have received," Nia said.
Though it has been an adjustment to adapt to this broad patient pool, the diversity of the Tech patient body is also a reason for their success. This is because of how the practice is positioned to serve the oral healthcare needs of the patients in many different classifications – whether they are transient patients, emergency patients or patients looking for long term care.
"Figuring out how to best serve [the] dental needs [of patients] has been our only challenge," Nia said. "Serving a defined group of patients allows our practice to better focus ourselves to meet the needs of this population."
Nia felt this diverse environment at Tech allows him to create a stronger and more efficient practice.
The relationship between Tech Dentistry and the Institute has been set up to flourish in years to come.
Tech Dentistry accepts dental insurance plans from most major providers making it an ideal location for many students and other members of the campus community and surrounding area.
Not only are they in-network with Humana and MetLife PPO dental plans, but they also accept and are in-network with more than 20 other PPO plans from major insurance carriers.
Members of the Tech community are also able to receive a 10 percent discount off the patient portion of treatment.
Patients of Tech Dentistry have the option to sign up for the clinic's discount plan. For $249 a year, a patient will receive two cleanings, two exams and two sets of X-rays every 12 months. With the discount plan, any further treatment will be discounted by 20 percent.
"The support and openness has allowed for our group to invest in state of the art technology, attract [a] talented specialist and setup dental office that has a long term patient oriented perspective," said Dr. Nia.
Stability can be expected, as Tech Dentistry continues to establish itself as the premier location in the area for dental services with support from the Tech faculty, staff, students and the surrounding community.
"This I feel creates a practice that is stronger and more efficient in servicing the dental needs of patients.  Overall we are very satisfied with the support of our community in helping keep this practice viable and top notch," Nia said.