[media-credit name="Sho Kitamura" align="aligncenter" width="741″]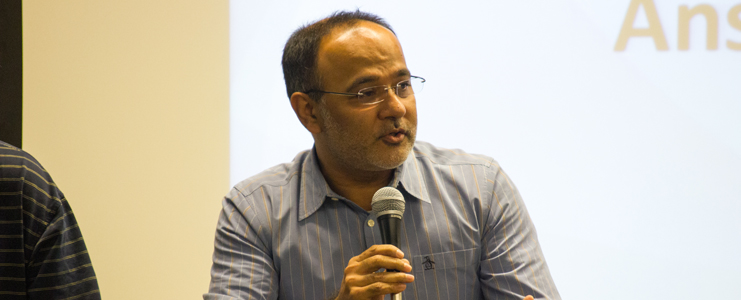 [/media-credit]Creating an education style that fits today's high tech environment is nothing new to the world of higher education. Talks of Massive Open Online Courses (MOOCs) and their potential has been topic of discussion on several college campuses, including Tech.
Last Thursday, Sept. 13, Provost Rafael Bras formally introduced the idea of MOOCs to the Tech community at a Town Hall forum. The forum featured a panel of faculty who are teaching courses through Coursera, which Tech partnered with earlier this year.
Partnerships between universities and online education programs similar to Tech's with Coursera are a trend on the rise. Stanford and Princeton have also partnered with Coursera, and MIT and Harvard have joined together to create edX. Georgia Tech Professional Education (GTPE), another Tech online education enterprise, has been working to develop online education options for the past 35 years and has online students in every continent both for credit and non-credit.
However, their popularity does not ensure that they are without flaws. As with the implementation of any new program or curriculum, issues have begun to surface within the MOOCs. One particularly stubborn issue is that of cheating. With courses online, there is a much higher risk that students will use Google or textbooks to help them take tests.
Many methods are being considered to help alleviate this issue.
"Options being utilized today include proctored exams, group projects and timed assessments. We are in the process of looking at other technologies that may come into play in the near future. One example is electronic monitoring, which utilizes webcams and keyboard biometric readers," said Fatimah Wirth, a Tech faculty member currently teaching a class on Coursera, and a former teacher for NASA's ePDN (electronic professional development network). "Our goal is to focus on ways to assess those students who are truly interested in learning and in obtaining a quality education."
Lab experience is another area where these courses run into trouble, particularly in areas like engineering and medicine which require a high level of laboratory practice in field success.
"We have things like flight simulators that pilots learn how to fly…but for [classes like] freshman chemistry…it's difficult to simulate that kind of thing in an online environment", said Gary May, Dean of the College of Engineering.
With these issues still facing promoters of online education, many universities have taken on an attitude of experimentation.
"We need to evolve, we need to experiment, we need see how far this tech approach to online learning can go, but I think we should also be measured and cautious in our expectations," May said.
For this reason, funding allocated to these programs is still mostly from donors, with only a limited amount of Tech funds going towards the initiatives.
"The campus unit leading the initiative, the Center for the 21st Century University (C21U), was created last year and seeded like other efforts. We are actively seeking donors that will invest in educational transformation. Ultimately, we also expect that this new type of online education will generate revenue," Bras said.
With the scope of the MOOCs still fairly broad and unfocused, a campus attitude of healthy skepticism can often be seen.
"It's important not to over promise with these kinds of things. I think there have been some statements about [how] this will revolutionize education, and it may, but I don't think we know that yet," May said.
Others remain confident in the inevitable success of the MOOCs.
"I am not concerned. I am foremost interested in how we educate present and future Georgia Tech students in the very best way. I want to learn what future students want and how they will learn. In doing so, we will connect with many prospective students around the U.S. and the world and attract them here," said Tech Provost Rafael Bras.
While the MOOCs have administrative support, the professors encouraged to teach these currently free classes may not all be so eager. For the most part, it seems they are on board.
"The reaction has been very positive. That does not mean everybody is comfortable with the concept, nor does it mean that everybody will participate or need to participate. I have no concerns about devaluing [faculty's] offerings," Bras said.
"I think [MOOCs] can certainly supplement or complement what we do now, but I don't think that the MOOC approach can replace what [professors] do," May said. "Maybe one day, when the Jedi holograms are available, maybe you can duplicate it. But even in Star Wars they had the Jedi academy."
The future of MOOCs is still undetermined, but the potential benefits cannot be tossed aside.
"I don't want to be too negative. I do think there is quite a bit of potential in breaking down barriers, in giving more people access to information… and bringing down the cost curve of higher education," May said.