Saturday's launch in Huntsville, Ala., will not be the first for Vespula. The nine-foot-tall student-built rocket has already flown twice over the past six weeks, achieving at least partial success on both occasions.
For the 16 members of Tech's University Student Launch Initiative (USLI) team, though, it is the third launch of Vespula—set for Saturday, April 21—that will mark the conclusion of a grueling albeit rewarding six-month effort.
[media-credit name="Photo courtesy of UIL" align="alignleft" width="300″]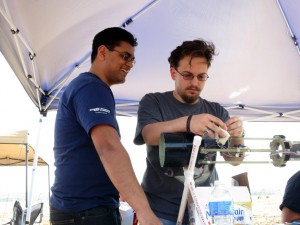 [/media-credit]Tech's Ramblin' Rocketeers make up one of the 42 teams competing in the USLI competition, a NASA-run program in which these teams of college students develop reusable rockets capable of carrying a payload to a one-mile altitude. Vespula will be the Rocketeers' entry in this competition.
Even though several team members had prior experience with model rocketry, the high-powered rocket required for the USLI competition has presented a completely new challenge for everyone on the team.
"I think only one or two people, including myself, had any experience with high-powered rocketry," said Project Manager Richard Zappulla, an AE graduate student.
"This is not a set textbook problem with a single solution," said Rob Rhinehart, a fifth-year EE/CS double major who serves as Flight Avionics lead. "We have to consider everything and fix things that come up. We have to go through a real design process, something I had never really gone through before."
In the process of designing Vespula—which was named after the genus of the yellow jacket species—the Rocketeers have gone through a series of design reviews with NASA personnel, culminating in a Flight Readiness Review in early April. Their final product is designed to reach an altitude of one mile, as competition scoring rewards teams for coming as close as possible to exactly one mile without going over 5600 feet.
"The intent of the whole USLI program…is really to get teams to experience a multidisciplinary project from cradle to grave," Zappulla said.
Regardless of the competition's results, the Rocketeers have found the entire experience to be a rewarding one.
"This launch is the hardest and most exciting thing I've done at Georgia Tech…It does mean a lot to me how much work [we've put in] and how much we've accomplished," Rhinehart said.