[media-credit name="Lisa Xia / Student Publications" align="alignnone" width="741″]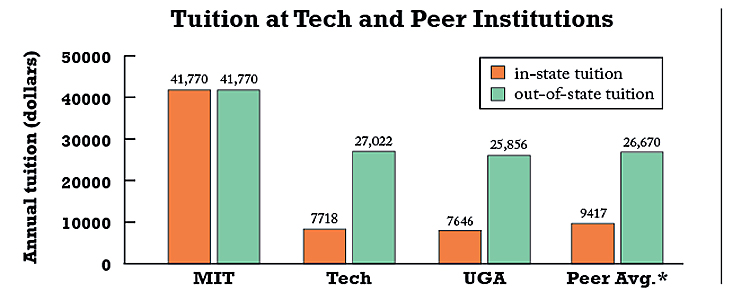 [/media-credit]
*Includes Board of Regents defined peer institutions
The Board of Regents voted Tuesday to raise tuition at Tech by six percent, differentiating it from other University System schools, which saw smaller increases. In-state undergraduates taking at least 15 hours will pay $3859 per semester, and out-of-state students will pay $13,511 per semester.
"Though sharing more of the costs of their education can be a challenge to many students and their families, a Georgia Tech education is an investment with an exceptional rate of return," said Institute President G.P. "Bud" Peterson in a prepared statement.
The size of the increase surprised Elle Creel, Undergraduate Student Body President.
"I think that the six percent increase on top of the Special Institutional Fee will be pretty significant," Creel said, referring to the $544 per semester fee that was renewed for next year by the Regents. "Students may feel like they can't meet that financial burden."
Peterson and University System officials have justified tuition increases, and Tech's increase beyond other University System schools, by saying Tech should be charging an amount closer to those of "peer institutions." The Regents consider Tech's peers to be schools like Penn State, the University of California at Berkeley and Virginia Tech. Although Tech is currently the fourth least expensive of the 14 schools in the peer group for in-state tuition, it is seventh of 14 schools for out-of-state tuition.
In meetings with student leaders, Peterson has indicated that he would like tuition to increase beyond the average of its peer group to reflect the relatively high stature of Tech compared to that peer group, saying he was planning on asking for a nine percent increase in tuition this year.
"If you look at our peer group, we're not average in that peer group — we're in the upper echelon," Peterson said. "A reasonable question is…if there are 16 institutions and we're number four, do we really want to be at the average or do we want to be in the top quartile? When we get to the average, we'll start…addressing that."
Creel was not convinced of that argument, however.
"Students are not going to find that reason compelling," Creel said.
Creel said she wanted to know what additional programs these new funds will be going to.
Peterson has indicated that he wants to use extra tuition funds to improve the student-faculty ratio, add support staff and ensure that services keep up with enrollment.
"We're concerned about the quality of our educational programs, and we feel that we have the opportunity to increase tuition," Peterson said. "I know that's not good news for the students, but that's reality."
James Black, Graduate Student Body President, was displeased with the Regents' failure to move the money charged through Special Institutional Fee to tuition. Graduate students have called for the Fee to be "rolled into" tuition so that the tuition waivers they receive for working as research and teaching assistants can cover the money, rather then their stipends.
Black and his counterparts at the University of Georgia and Georgia State University sent a letter to Board of Regents Chairman Benjamin Tarbutton that was forwarded to the rest of the Regents requesting they consider a separate solution for graduate students.
Tech and the University System have made attempts to assist students in dealing with the increases in tuition and fees as well as decreases in the HOPE scholarship. Earlier this year, Tech was the first school in the University system to agree to match Gov. Nathan Deal's REACH Scholarship fund.
[media-credit name="Britteny Miles / Student Publications" align="alignleft" width="277″]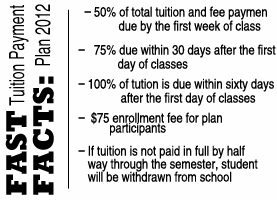 [/media-credit]The Institute has maintained the Tech Promise program, which is designed to help students with high financial need graduate from Tech debt-free.
On Wednesday, the Regents voted to have the Institute pilot a tuition payment plan.
"This was proposed as part of the initiative to maintain affordability for students," said Carol Payne, the Institute Bursar. "We're really excited that we can offer another option for students and their families."
Other financial aid options normally available to students are either expiring or not increasing to meet the rise in tuition. Students on the HOPE scholarship will not receive an increase in award unless they are Zell Miller scholars. Additionally, students who entered in 2008 under the Fixed for Four guaranteed tuition plan will see their previously unchanged tuition jump to match the current tuition charged by the Institute.