The idea of government secrets immediately peaks the attention of many and has been the subject of countless films and books. Although she x never have been a part of a top secret project, Kathleen Goonan, a visiting LCC professor, may be able to suggest a few possible projects that the federal government might one day be working on. After all, she is the person who thought of them.
As a popular science fiction author, Goonan is the first Tech professor to become involved with SIGMA, an organization of science fiction authors designed to provide think-tank services for the U.S. government.
[media-credit name="Sho Kitamura / Student Publications" align="alignleft" width="284″]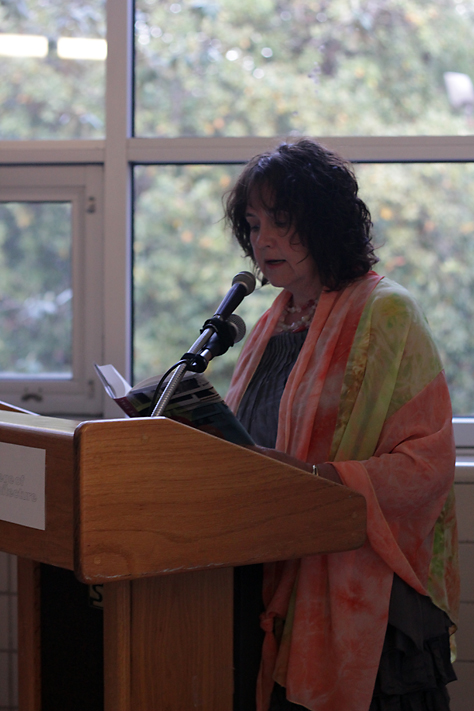 [/media-credit]This organization contains over 40 experienced science fiction authors who have consulted with a number of governmental agencies, NATO, and NGOs. The backgrounds of SIGMA members range from Ph.D.-level physics and engineering, to psychology, poetry and history.
"Government organizations [when first approaching SIGMA] want someone who can think outside the box for them," Goonan said, with regard to the qualifications for SIGMA members.
Historically, there have always been links between science fiction and the government, but it wasn't until the 1940s when science fiction authors began to be taken more seriously, leading to the concept of consulting. SIGMA replaced the Citizens Advisory Council on National Space Policy, a similar kind of consulting organization.
"Policy makers tend to think short term. It's SIGMA's job to think long term…it provides a really awesome perspective for the government," said Lisa Yaszek, an LCC professor at Tech who specializes in science fiction.
In Jan. 2012, Goonan and three other science fiction authors and SIGMA members were invited to the Global Competitiveness Forum in Riyadh, Saudi Arabia. In its sixth year of existence, this forum showcased a Tech faculty member for the first time.
"[The conference] was all about communication,incorporating the arts in business and science in ways that will make businesses more productive and universities more targeted," Goonan said.
This was not the first time Goonan has been invited to give talks. She was also invited to speak to the Joint Services Small Arms Project, an organization associated with the Pentagon. At this event, science fiction authors were invited to talk about the possibilities of futuristic warfare and weaponry.
Her latest novel, This Shared Dream, touches on this idea through its main character. Goonan's idea of radical literacy deals with a learning style in which children teach themselves.