As students prepare to leave the country for summers abroad, they will board their flights in a new place. On May 16, Atlanta's Hartsfield-Jackson International Airport is set to open its new Maynard H. Jackson International Terminal, also known as "Concourse F."
The new terminal will require travelers to take exit 239 off of Interstate 75 South. This is different from exit 72 off of Interstate 85 South, which is used to drive to the domestic terminal.
[media-credit name="Sho Kitamura / Student Publications" align="alignleft" width="337″]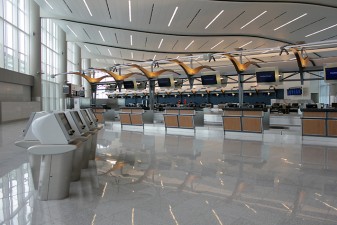 [/media-credit]"Because I'm an international student, I don't have a car here. I usually just take the MARTA to the airport, and that's true of most international students," said Urvashi Goverdhan, a third-year CS major, noting that this change would not affect her travel to and from the airport.
Travelers who take MARTA to the airport will need to add an extra 15 minutes to their travel time because no new MARTA stations are being constructed. The airport will have a shuttle to take MARTA passengers, and travelers who arrived at the wrong terminal to the international terminal.
"It'll be a tough lesson for people to learn," said Al Snedeker, Public Relations Manager for the airport. "If you want to take MARTA, you'll have to build in a little more time."
To direct travellers to their correct destination, the airport and airlines have launched a public awareness campaign and will be placing new road signs on the way to the airport.
The new terminal will contain an area for international passenger check-ins and a new customs and baggage handling facility. Concourse F will add 12 international gates to Concourse E's, giving the airport 40 international gates in total. Beyond increasing the airport's capacity to handle international travellers, the new terminal will eliminate the need for travellers whose final destination is Atlanta to collect and recheck their baggage.
Only those who are connecting to another city in the U.S. will need to recheck their bags. The airport hopes that the new terminal, designed by Atlanta Gateway Designers and constructed by the firm Holder, Manhattan, C.D. Moody, Hunt, will attract new traffic to the city. According to Snedeker, the terminal is meant to evoke a "sense of place."
"It's about engaging passengers and making it an enjoyable experience…so they'll ultimately choose to come through Atlanta," Snedeker said, referring to the atmosphere of the terminal.