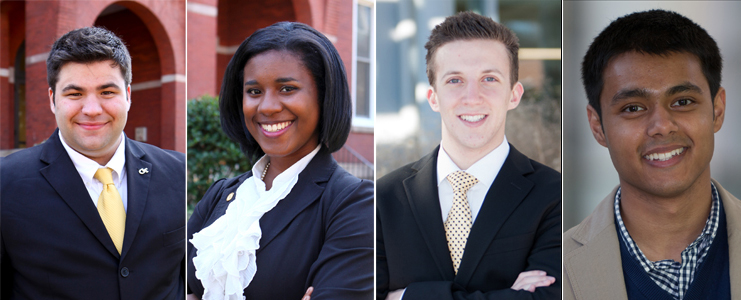 Hammond, Andrews pledge to "Stand Up," advocate for students
Hunter Hammond and Kia Andrews, candidates for SGA Undergraduate President and Executive Vice President, plan on making advocacy a central part of their campaign.
"[SGA's] not meant to get its name out there, not meant to be a brand generator. It's meant to be an advocate," said Hammond, a third-year B.A. major who is currently the junior class president in the Undergraduate House of Representatives.
He has headlined his campaign with one big advocacy project—get a student representative on the Board of Regents.
"There is [a student] advisory council for the Board of Regents…but that's not a voice. It's an outlet to make you feel placated," Hammond said.
Hammond said he's talked to several past SGA presidents and has a plan based on rallying support at Tech and across the state.
"Pressure goes a long way," Hammond said.
Hammond's opponent in the election believes the initiative might be too tough to achieve in a short time frame.
"It's not gonna happen," said Eran Mordel, also a candidate for Undergraduate SGA President, of the idea of getting a student representative on the Board in one year. "I think it's a great idea, but we have to remember what's functionally possible in a year. We can lay the groundwork for two or three years."
Hammond is confident he would succeed despite the doubts.
"A year was ample time in the past to have this discussion, it will be ample now in the present," Hammond wrote in a statement on his website.
Andrews plans to balance Hammond's focus on advocacy with her own focus on engaging all parts of the student body.
"SGA is responsible for reaching out and letting other students know what SGA is, and what SGA can do for all students," said Andrews, a third-year B.A. major and chair of SGA's Cultural and Diversity Affairs Committee.
She pointed to athletes and international students, as well as minority and cultural organizations, as groups that could become more closely involved in SGA.
Hammond, if elected, would be the first SGA President who did not serve on the SGA executive cabinet since 2004. Hammond is confident in his record.
"I challenge anybody to say I don't have as much experience as [Mordel] and Amit [Khanduri]," Hammond said.
He views his ticket as a new option.
"If you want to see a different SGA…you have to look a little bit outside of the construct," Hammond said.
Mordel, Khanduri say "Spark" of experience will deliver victory
Eran Mordel, a third-year ISYE major, and Amit Khanduri, a third-year BA major want to make two things clear in their campaign to be the next Undergraduate SGA President and Executive Vice President: they have the diversity and the experience to best represent the student body.
"I think we're extremely representative [of the student body] between us in our involvements," said Mordel, pointing in part to his Israeli background and Khanduri's Indian heritage.
"What we have done and what we can continue to do in two years as opposed to one is unreal," Mordel said of his time as Vice President of Campus Affairs and Khanduri's time as Vice President of Academic Affairs for Undergraduate SGA.
Mordel and Khanduri hope to continue and expand upon the initiatives they have worked on this year should they be elected. Khanduri pointed out the potential benefits of many of the academic resources his SGA committees are working on, such as a syllabus database.
"[Focusing on] those resources will have such a huge immediate impact in the next few years." Khanduri said.
In SGA, both candidates oversee several committees, which perform much of the day to day work. One of the ticket's opponents, Kia Andrews, a third-year B.A. major running for Executive Vice Presdient, said that some of Mordel and Khanduri's initiatives should be attributed to the of committee chairs.
"A lot of [Mordel's] accomplishments were accomplishments that the committee chairs were doing," said Andrews. "We put in a lot of effort and a lot of that effort gives glory to [Mordel]."
Mordel's campaign responded to that criticism over Twitter.
"Committee Chairs = team. Our campaign IS our team.," said the tweet from the campaign's official account.
When asked about campus safety, Mordel claimed that his work could go to prevent muggings like the one near the Library on March 8.
"Right where the [Library] Clery Act happened, that's where the Midnight Rambler was supposed to come, but they didn't have the money," said Mordel, referring to his work to secure more comprehensive coverage.
Mordel and Khanduri see this year as one where they bring to students a number of concrete initiatives while laying the groundwork for broader change further in the future.
"We're not going to change the culture in a year. We want to set the groundwork for that type of involvement in student government," Mordel said.